IOU's Totum-One premiers at the Junction in Goole
Tue, 16 Sep 2014 09:36:00 BST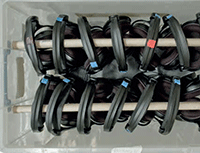 A team of staff from the University of Huddersfield have been involved in IOU's new work Totum-One which opens in Goole on Thursday 18 September. Totum-One, the piece they are showing at Goole, is a 360 degree sound lab which allows people to experience new developments in sound and virtual worlds currently being researched by IOU in collaboration with the University of Huddersfield.
Dr Ian Gibson, Senior Lecturer in Music Technology; Professor Monty Adkins, a composer, performer and Professor of Experimental Electronic Music and Dr Deborah Middleton, former Subject Area Leader for Drama who is a writer, yogi and theatre academic have worked together on this project. Monty Adkins and Deborah Middleton have worked together with IOU to create an audio performance called Borderlands which uses Deborah's words and Monty's music. The audience experience this in the lab using headphones so the experience is immersive.
Ian Gibson has created a piece called CosMix in the sound lab which is an interactive piece for tablet and computer. The participant traces a satellite path through a sonic universe. Each planet has an associated soundscape. This project uses an iOS interface developed as part of a postgraduate project by Anton Jidkov with Ian supervising the project.

Tim Moss from the Drama department is also involved with IOU as a board member. Tim and Deborah are currently writing a paper about IOU's work.
IOU's latest work Totum-One transforms Junction Goole into a glowing white sound and vision laboratory, where you can explore magical virtual worlds using the latest 3D headsets. Visitors can experience a beautiful sound environment created in partnership with researchers from the University of Huddersfield and be part of the development of new ways to experience sound, currently being researched by IOU.
A made to measure inflatable laboratory transforms the auditorium into a cool white space which contains a series of interactive elements: Borderlands is a beautiful audio performance specially created for Totum-One that can be explored using innovative new technology created in the sound technology department of the University of Huddersfield. There is also the opportunity to experience and interact with IOU's current research and development work into virtual worlds using Oculus Rift 3D goggles.

Students and staff are welcome to visit and you can find out more here: Totum One
Totum-One is at The Junction, Paradise Place, Goole DN14 5DL from 18 to 20 September 2014. Open Thursday and Friday 4.00pm to 7.30pm and Saturday 11.00am to 7.30pm.