Love/hate relationship to "foreigners" in Britain in WWII
Fri, 10 Oct 2014 15:41:00 BST
Professor Wendy Webster's research into WWII refugees, visiting soldiers and war workers will feature at the Imperial War Museum North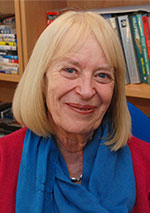 ‌UNIVERSITY of Huddersfield historian Professor Wendy Webster (pictured) has been awarded more than £100,000 to research Britain's experience of diversity during WWII – with the arrival of huge numbers of refugees, war-workers and military personnel, chiefly from the British Empire, Europe and the USA.
A new book and an Imperial War Museum exhibition will result from the research, for which Professor Webster is examining a large number of autobiographies, memoirs and other personal accounts from the war and its aftermath. One finding is that while Britons usually welcomed foreign servicemen, their attitude often turned frosty when the war was over.
‌‌"In the post-war period, the history of diversity was basically forgotten," she says. "For example, when the Empire Windrush arrived in 1948, it carried people from the West Indies who were largely returning to a country where they had been stationed during the war. But they were much less welcome on their return when people were aggressive towards them and said they shouldn't be here."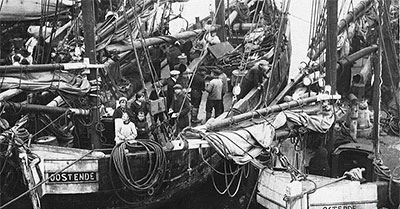 Professor Webster's project is titled Mixing It and it has received a £110,000 Leadership Fellowship from the Arts and Humanities Research Council. She has been joined by the historian Dr Janette Martin, who will act as research assistant and conduct interviews with people who have personal memories of the 1940s and also younger generations about the experiences of their families.
UK reaction varied
The book resulting from the project will be published in 2016 and range over the whole UK, examining the experiences of groups such as the Belgian fishing fleet in exile (pictured right), dispersed around England and Wales, plus large numbers of Poles in Scotland, Czechs in Wales – where they had their own school – and U.S. servicemen in Ulster. Many other nationalities were represented in the UK, including Dutch, French, Norwegians, Australians, New Zealanders, Indians, West Indians, and a massive body of American soldiers.
"Black GIs were often liked," said Prof Webster. "They were thought to be more courteous than their white counterparts."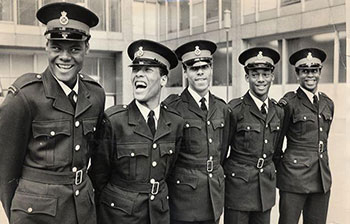 "Reactions to foreigners were so varied," she says. "There was a moment of real hostility in 1940 when invasion looked imminent, because of fears about spies and fifth columnists. And when Italy declared war there were anti-Italian riots in many British towns and cities."
"But that did pass after 1940 and there was no recurrence of violence, with people in uniform in particular often welcomed and valued. There was less sympathy for civilian refugees."
Also, there was hostility towards the prospect of British women forming relationships with foreigners, added Professor Webster.
The exhibition resulting from the Mixing It project will be mounted at Imperial War Museum North in Manchester. It opens in September 2015 – to coincide with the 70th anniversary of the ending of the war – and is due to run for six months. It will focus on troops stationed in North West England, and what happened to them when the war was over.
Back to news index - October