£1.6m archive centre opened by Heritage Lottery chief Gary Verity
Tue, 21 Oct 2014 12:22:00 BST
Heritage Quay combines state-of-the-art with the traditional to create one of the most technologically-advanced archives in the UK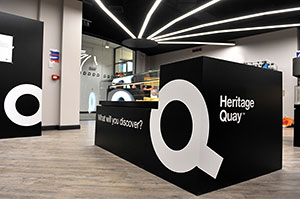 A STATE-OF-THE-ART facility at the University of Huddersfield which enables users to take fascinating journeys into the past opens its doors to the public.
The University was awarded £1,585,000 by the Heritage Lottery Fund (HLF) to develop a new archives centre that is one of the most technologically advanced in the UK. It is now fully open to members of the public, so that they can delve into its varied collections. The archive includes a high-tech Exploration Space, enabling visitors to sample archival material via touch screens and gesture technology (as seen in the photo above).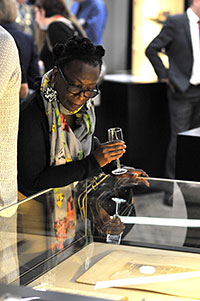 The new archive occupies a level of the University's 14-storey Central Services Building. Adjacent to the historic Huddersfield Narrow Canal, it is to be known as Heritage Quay and was opened by Gary Verity, Chair of the Heritage Lottery Fund for Yorkshire and the Humber.
‌Sport, music, politics, industry and the performing arts are among the many topics covered by the University's archives. In addition to its public spaces and facilities for researchers, Heritage Quay will also house a repository that contains more than one-and-a-half kilometres of shelving, to accommodate more than 300,000 books, documents, photographs, recordings and videos.
‌The repository will be one of the first in the UK to meet a rigorous new British Standard covering security and fire suppression. A programme of digitisation will preserve fragile material, enabling it to be accessed electronically – on the web as well as on site. There is also a future-proofing dimension, as obsolete formats such as Betamax video recordings are upgraded.
Public outreach will be a major part of Heritage Quay's activities and the archives team will have significantly increased capacity in working with local communities, including a new post working with local schools. Local organisations – including Huddersfield Local History Society and the Huddersfield Civic Society – will also be using the facilities. One of the most important collections is the official archive of the Rugby Football League and there is a plan to mount displays covering whichever team is visiting town to play the Huddersfield Giants during the Super League season.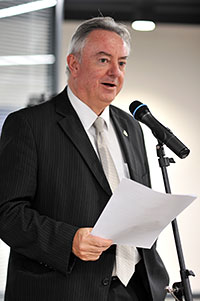 The Heritage Quay ceremony was begun by the University's Vice-Chancellor, Professor Bob Cryan. He said that although his university was a forward-looking institution, it was equally deeply proud of its roots and traditions. "This wonderful new addition to our campus is a perfect symbol of this philosophy," said Professor Cryan. "In terms of its design and technology, it is positively futuristic. But its role is to aid the exploration of the past and to do so in a truly enlightening and exciting way."
Professor Cryan also said that Heritage Quay reflected the University's mission because of its accessibility.
"Just as we try to reach all layers of the community educationally, by providing opportunities to all, this new, ultra-modern archive will be open more than 60 hours a week to everybody who wants to explore its collections. It will be the most publicly accessible, as well as the most-technically advanced archive in the university sector.
‌"Popular fascination with history has never been higher. Heritage Quay will feed this passion, not only for students and academics, but the wider public too," said Professor Cryan.
Heritage Lottery Fund – Using money raised through the National Lottery, the Heritage Lottery Fund (HLF) aims to make a lasting difference for heritage, people and communities across the UK and help build a resilient heritage economy. From museums, parks and historic places to archaeology, natural environment and cultural traditions, we invest in every part of our diverse heritage. HLF has supported over 36,000 projects with more than £6bn across the UK, including over £445m to projects in Yorkshirend the Humber alone – visit www.hlf.org.uk or follow the HLF on twitter @HLFYandH.
Back to news index - October