Huddersfield Professor receives the Sir Harold Hartley Medal
Mon, 24 Nov 2014 12:42:00 GMT
Professor Jiang, Director of the EPSRC Centre for Innovative Manufacturing in Advanced Metrology, receives prestigious award for work of outstanding merit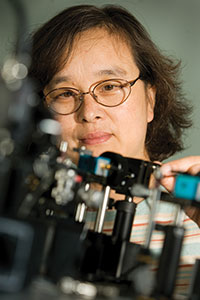 PROFESSOR Xiangqian Jiang, Director of the EPSRC Centre for Innovative Manufacturing in Advanced Metrology at the University of Huddersfield, has received the prestigious Sir Harold Hartley Medal from the Institute of Measurement and Control.
The medal is awarded to a person whose contribution to the technology of measurement and control is considered to be of "outstanding merit".
Founded in 1944 and incorporated by Royal Charter in 1975, the Institute of Measurement and Control is committed to promoting the professional excellence of engineers and technologists at all levels in the automation, instrumentation, control and related industries.
Professor Xiangqian Jiang
From humble beginnings, Professor Jiang's career as a scientist is testimony to her hard work, dedication and ability to understand and pioneer her subject.
Before being awarded her Huddersfield professorship in 2003, she had two decades of experience working in the engineering industry in her native China. Then came the switch to academic life and an impressive list of research publications.
Professor Jiang has published over 230 papers, authored and co-authored eight books and has several patents on measurement science and surface metrology. Currently, she holds a prestigious Frontier Research Programme (Advanced Scheme) sponsored by the European Research Council for well-established word-leading researchers and is a principal member of ISO/TC 213 and BSI TW/4, as well as an Advisory Member for the UK National Measurement System.
But although she has displayed a profound interest in the philosophical basis of her discipline, Professor Jiang has never lost sight of the real-world implications and importance of her work and the industrial and academic qualifications she holds are an ideal combination.
She has numerous Fellowships including; the Royal Academy of Engineering (FREng), the Institution of Engineering and Technology (FIET), the Royal Society of Arts (FRSA) and the International Academy of Production Research (FCIRP).
EPSRC Centre
Photo caption: Pictured left to right: Category Chair Margaret Wood, ICW (UK) Ltd, with the team from the EPSRC Centre; Dr Hussam Muhamedsalih, Professor Jane Jiang, Simon McKenna and Dr Haydn Martin, accompanied by event host and BBC technology reporter Kate Russell.
The award-winning EPSRC Centre for Innovative Manufacturing in Advanced Metrology at the University of Huddersfield aims to create the next generation of measurement instruments and create a 'factory on the machine' – the ability to manufacture, measure and correct in a single process.
One instrument, called the Wavelength Scanning Interferometer (WSI), can measure micro and nano geometry and surface topography even when environmental conditions are exceptionally harsh, leading to huge cost savings and environmental benefits.
Developed by Professor Jiang, the WSI was the winner of the Manufacturing Technology category in the 2014 Innovation Awards run by the Institution of Engineering and Technology (IET).
On receiving this prestigious award Professor Jiang said: "It's great to receive such recognition from an institution as renowned and long-running as the IET. Hopefully, this award will mean that we can continue to invest in the innovation for many more years, to ensure that factory targets are supported with the best available means."