Provide a warm welcome to your visitors with iPoint
Fri, 16 May 2014 14:55:00 BST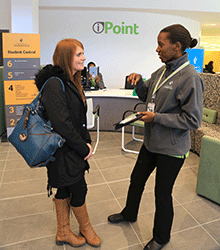 Since opening in mid-January, the iPoint team in Student Central has greeted and escorted almost 3,000 visitors, students and staff members around campus.
The team has welcomed visitors from other institutions, escorted conference delegates to their venue and helped students get to their lectures on time. As a result of this demand they have developed the iGuide which enables all staff to inform them of any expected visitors.
What can the iPoint do for you?
All staff members are able to use this iPoint service to greet and escort their visitors. It could be used for small meetings involving just a few attendees to external conferences with 100+ delegates. The service is available from 8.00am to 6.00pm Mondays to Fridays (9.00am to 5.00pm during the Summer and Christmas vacations). If your event falls outside of these times, please discuss this with the iPoint team as they may still be able to assist you.
Customer Feedback
Here is some of the feedback the team has had so far:
"...we received some wonderful feedback today from our conference delegates about how welcoming and helpful the iPoint staff were. We had representatives from twelve other Higher Education Institutes attending our GEMS conference in Student Central and many of them specifically mentioned how nice it was to be met and guided by such friendly staff," said Stephen Boyd, Head of the Careers and Employability Service.
"We recently hosted some visitors from Blackboard at a meeting with Professor Tim Thornton. The visitors commented that they had received excellent service from the students on the iPoint team. As soon as they entered the building they were spotted by the team and approached in a very welcoming and friendly manner. They said they were extremely impressed," commented Sue Folley, Academic Development Advisor.
"The iPoint has been extremely helpful on Applicant Visit Days. It's not only nice for visitors to have a warm welcome from the iPoint team but very helpful to us as they kindly bring applicants down to Event Central. We feel this has made a great positive difference to applicants and their parents," said Jo Ricketts, Schools & Colleges Liaison Assistant.

How do I use the service?
Please send an email to ipoint@hud.ac.uk including the following details:
Subject: please insert iGuide request
Name of event
Date and time of event
Location of event
Expected number of attendees (and names if applicable)
A contact name and telephone number (just in case they need to get in touch with you on the day)
When significant numbers of guests are expected, it will be helpful if you give us as much notice as possible.
Upon receipt of your request the iPoint team will send you an acknowledgement.