Bruce Myers, celebrated classical actor, performs in Huddersfield
Thu, 06 Mar 2014 15:35:00 GMT
The University welcomes distinguished actor Bruce Myers to perform The Grand Inquisitor
IN a major coup for the drama department at the University of Huddersfield, actor Bruce Myers – who has won global renown for his collaboration with legendary director Peter Brook – will come to perform one of his most famous solo roles and hold masterclasses.
On Friday 21 March, at the University's Milton Theatre (7.30pm), Mr Myers will perform The Grand Inquisitor, a 50-minute drama extracted from an episode in Dostoyevsky's novel The Brothers Karamazov, in which Christ returns to 16th century Spain, but is condemned by the head of the Inquisition, fresh from consigning 100 heretics to the flames.
Performing this thought-provoking role around the world, Mr Myers has been praised for his "entrancing rhetorical skill" and has been described as "a human Stradivarius".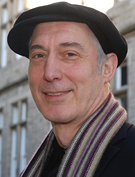 "He is a fabulous actor and by all accounts a wonderful man. To have him here is a marvellous opportunity," said Franc Chamberlain (pictured right), who is Professor of Drama at the University of Huddersfield.
Peter Brook has been one of the world's most influential theatre directors since the 1940s and in 1970 he founded the International Centre for Theatre Research, based in Paris. Bruce Myers, who had been a member of the Royal Shakespeare Company, was a founder member of Peter Brook's new company and has featured in many of its most famous productions, such as the epic Mahabharata, in which he played Krishna.
He also devised a version of the classic Yiddish play The Dybukk, and when University of Huddersfield postgraduate students Eilon Morris and Tray Wilson decided to stage a performance they made contact with Bruce Myers. A fruitful exchange of ideas followed and the celebrated actor – who is based in France – agreed to visit the University to perform The Grand Inquisitor and hold workshops with students. These too are open to the public.
The Grand Inquisitor is performed on Friday 21 March (7.30pm) at the University's Milton Theatre, Studio 1. Tickets are £12/£6. For further details and to book please contact miltonboxoffice@hud.ac.uk. On Saturday 22 March, Bruce Myers will hold two workshops for drama students, and there will be an opportunity to observe these sessions.
Back to news index - March