Uni and Smallpeice Trust combine to find future rail engineers
Tue, 29 Jul 2014 15:43:00 BST
Institute of Railway Research chosen to host the rail engineering residential course by the Smallpeice Trust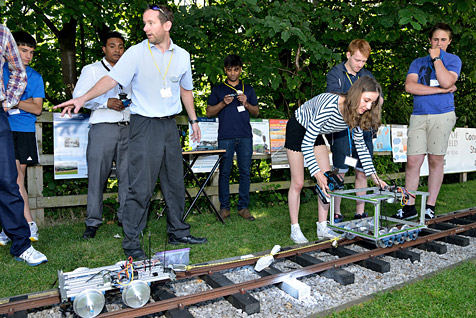 WITH the UK poised to enter a new era of high-speed, high-tech rail, young engineers from around the country had their futures fast-tracked at a special University of Huddersfield course.
Over four days, 10 teams of 15-17-year-olds heard talks from rail experts and took part in competitive challenges that saw them designing, building and testing their own electric-powered locomotives, running them on the mini-rail track installed at the campus by the Institute of Railway Research (IRR), which is based at the University.
The teams also delivered presentations and displayed posters that described their locomotives, which took part in challenges that included a sprint test and a rail version of tug-of-war.
The IRR hosted the event in conjunction with the Smallpeice Trust, an educational charity that runs science and technology courses around the UK. After the final contests had taken place, prizes and certificates were awarded to the winning teams by Professor Andrew Ball, who is the University's Pro-Vice Chancellor for Research and Enterprise, and by Jason McCartney, the Colne Valley MP, who sits on the Transport Select Committee in the House of Commons.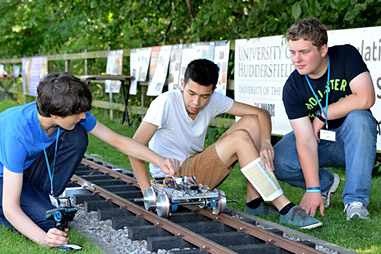 "Rail travel is the future," said Mr McCartney, who told the young engineers how there would be plentiful career opportunities in the sector, and he looked forward to the time when some of them displayed their technical expertise in the construction of the HS2 North-South link.
Mr McCartney's views on the importance of railways were backed by a key observer at the event – Dr Malcolm Thomas, a trustee of the Smallpeice Trust, who had a distinguished career in the automotive industry as the engineering director of the Ford Motor Company in Europe.
"About 20 years ago we would have said that railway engineering belonged to the 19th Century. But now, it is very much a 21st Century technology, with developments such as HS2 and Crossrail," said Dr Thomas.
Dylan Cozens, of the Smallpeice Trust, said that the rail engineering course had been run for the past four years before relocating to the University of Huddersfield. He praised the role of the IRR in staging the event and hoped that it would return.
The Director of the IRR, Professor Simon Iwnicki – who currently chairs the Railway Division of the Institution of Mechanical Engineers – told the 45 budding rail engineers that they had done fantastically well.
"We have been inspired by your enthusiasm and your technical expertise," he said at the closing ceremony, adding that he hoped the young participants had also learned about the practical importance of teamwork and issues such as finance. All the teams had been given a set budget from which they had to pay for components and the construction and testing of their miniature locomotives.