Celebrated violinist receives honorary doctorate
Wed, 23 Jul 2014 16:12:00 BST
Irvine Arditti has led the Arditti Quartet for 40 years and his success in the field of new music is second to none
THE Arditti Quartet has just celebrated its 40th anniversary and, in the world of new music, is regarded as doing more "to enrich and expand" the string quartet repertoire.
The man who created and has led the group for four decades is violinist Irvine Arditti and he and the quartet have been regular performs at the Huddersfield Contemporary Music Festival.
On this occasion, Irvine Arditti returns to Huddersfield to receive the honorary award of Honorary Doctorate of the University from the University of Huddersfield.
Irvine Arditti
Irvine Arditti has been described as "a powerful centre of gravity in new music" and as a "maverick musical genius". He, the leader of the Arditti Quartet is dedicated to playing new works. It has become an institution in the field of contemporary chamber music and has performed works by almost all of today's leading composers. The quartet has performed at the world-renowned Huddersfield Contemporary Music Festival since 1982 and 2014 will be the twentieth appearance.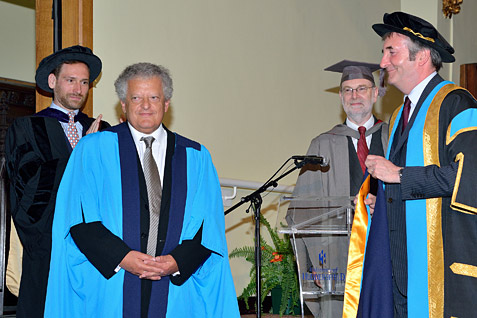 Pictured at the awards ceremony with Irvine Arditti are ‌(left to right) Dr Aaron Cassidy, Professor John Bryan and Professor Peter Slee.
Over the past 30 years, the ensemble has received many prizes. The prestigious Ernst von Siemens Music Prize was awarded in 1999 for lifetime achievement in music, so far, the only ensemble to receive this honour.
Irvine Arditti himself is a violin virtuoso who forged a personal reputation as a soloist. Born in London in 1953, he began his studies at the Royal Academy of Music at the age of 16. He joined the London Symphony Orchestra in 1976 and after two years, at the age of 25, became its Co-Concert Master. He left the orchestra in 1980 in order to devote more time to the Arditti Quartet, which he had formed whilst still a student.
Irvine Arditti has given the world premières of many large-scale works, especially written for him and he has appeared with many distinguished orchestras and ensembles.
As well as having recorded over 190 CDs with the Quartet, Irvine Arditti has a large catalogue of solo recordings. His CD of works by composers such as Carter, Estrada, Ferneyhough and Donatoni, as well as his recording of Nono's La Lontananza, have been awarded numerous prizes. His recording of Cage's Freeman Etudes for solo violin, as part of his complete Cage violin music series for American label Mode, has made musical history.
July 2013 saw the publication of The Techniques of Violin Playing, co-authored by Irvine Arditti.
Back to news index - July