University hosts visit by HRH The Princess Royal
Tue, 08 Apr 2014 12:23:00 BST
HRH The Princess Royal meets the next generation of women scientists and engineers at the WISE Student Colloquium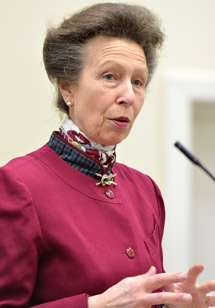 HER Royal Highness The Princess Royal paid a special visit to the University of Huddersfield so that she could back a campaign to boost the numbers of women who study science and engineering subjects and make their careers in those fields.
‌The event attended by Her Royal Highness was the WISE Student Colloquium 2014 staged at the University by the WISE campaign, which has a mission to improve gender balance in the UK's Science, Technology, Engineering and Mathematics, or STEM workforce. The goal is to increase the proportion of female employees from 13%, as it stands now, to 30% by the year 2020.
‌WISE – of which The Princess Royal is a patron – was founded 30 years ago, following a major report on the state of engineering in the UK. The University of Huddersfield was an ideal location for the organisation's 2014 colloquium, because it has committed itself to increasing the numbers of women who take up science and engineering courses.
The UK badly needs more qualified engineers, but approximately half of female engineering and technology graduates do not follow up their studies with careers in these highly varied professions. The WISE Student Colloquium was a key part of WISE's campaign to reverse this trend and The Princess Royal showed her support when she met students and organisers who attended the event at the University of Huddersfield.
The Colloquium – which was supported by ExxonMobil and attended by representatives of many leading companies – provided an opportunity for female STEM students from across the UK to meet employers, learn about graduate programmes and hear from women who have used their engineering qualifications to forge exciting careers.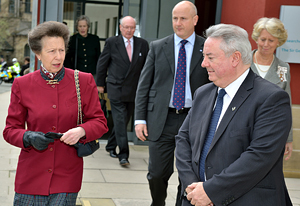 HRH The Princess Royal was welcomed to the campus by the University's Vice-Chancellor, Professor Bob Cryan.
‌The line-up of role-model speakers included 2013 WISE Excellence award-winner Jo Carris, who is a Senior Sustainability Consultant at Useful Simple Projects, which she joined from the Olympic Delivery Partner's Sustainability Team, and 21-year-old entrepreneur Ruth Amos, who is the inventor of the StairSteady, an aid to enable people with limited mobility to use their stairs safely.
Other speakers included April Feick, who is Director and Chairman of ExxonMobil Chemical Limited in the UK; Philippa Oldham, who is Head of Transport and Manufacturing at the Institute of Mechanical Engineers; and University of Huddersfield lecturers Dr Laura Waters, a scientist who is also a Principal Enterprise Fellow, and Dr Leigh Fleming, who is research engineer with a specialisation in surface measurement.
The master of ceremonies for the Colloquium was WISE Board member, Dr Nina Skorupska, who is CEO of the Renewable Energy Association and was the first woman to run a UK power station for RWE npower. The panel discussion was chaired by WISE Board member Gillian Arnold, who has extensive experience in the IT industry and is CEO of IT services and staffing company Tectre, who have developed strong links with the University.