When men get the baby blues as well
Mon, 03 Dec 2012 13:22:00 GMT
Experts probe the problems of depression before, during and after birth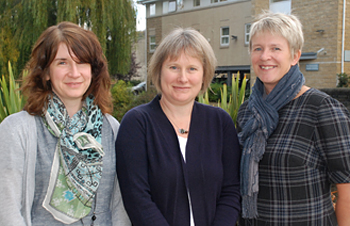 The organisers of the Perinatal Mental Health Day, Senior Lecturer Fiona Trotter [right] and nurse Dinah Wylde [left] are pictured with psychiatrist and key speaker Dr Fiona Young [centre]
‌MEN too can suffer from postnatal depression and when they do it can have a long-term impact on their children. That is one of the key themes to emerge from a conference at the University of Huddersfield and it is also central to the research of one of its lecturers.
The conference was a Perinatal Mental Health Day, meaning that it dealt with the period from early pregnancy through to childbirth and the first year after delivery. It was organised by Fiona Trotter, a University of Huddersfield senior lecturer, with Dinah Wylde, a nurse with extensive experience of voluntary and charitable work in fields such as postnatal depression (PND).
Mark Williams, from Wales, was an invited speaker. He is the founder of an organisation named Fathers Reaching Out which provides support for men whose wives or partners are suffering from postnatal depression (see him talk more about Fathers Reaching Out in the video below). And the mental health problems that can afflict men before, during and after their partners give birth is the subject of doctoral research being conducted by Fiona Trotter, who is the University's senior lecturer and field leader for mental health.
"Maternal mental health has long been an important subject, but now there is emerging interest in men's mental health during the perinatal period," she says.
Services such as clinics and visits from midwives are very much focussed on mothers and children and often fail to take account of men's working patterns.
As a result, men might feel excluded from the process and if their wife or partner suffers from antenatal or postnatal depression, then there is a considerable risk of a man becoming depressed too – although as yet no standard term has been coined for paternal postnatal depression.
Studies have shown that mental health problems experienced by men and women during the perinatal period can have a significant long-term impact on children.
"Boys in particular seen to be at risk of conduct-related disorders and it can be traced back to this period," says Fiona Trotter.
Men are generally reluctant to discuss issues relating to mental health, she adds.
"But if one of the key risk factors for a man to develop either ante or postnatal depression is having a wife who suffers from that condition, then I believe staff should have heightened awareness to the needs of men during this period."
The problem could be tackled with clinics held at a time when it easier for men to attend, and there should be much more general awareness of the problem, including special literature aimed at men, suggests Fiona Trotter.
She adds that the actual process of childbirth can be harrowing for fathers too.
"I don't think we always appreciate the trauma that men can go through in actually seeing their child delivered, and perhaps that is something that they should be better prepared for."
The Perinatal Mental Health Day at the University of Huddersfield was attended by more 200 delegates from around the UK and a series of key speakers included the psychiatrist Dr Fiona Young; Janine Cherry Staines, a child psychotherapist who spoke about the impact of perinatal mental health problems on infants and children; and Belinda Gaskell, a health visitor who provides training and support to practitioners in the recognition and treatment of PND.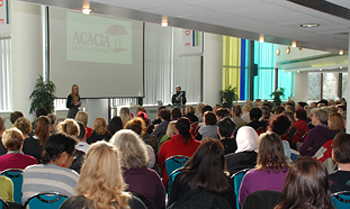 There were also talks from Ruth Jackson, a co-ordinator for Bluebell, which supports young mothers afflicted by postnatal depression; health visitor and author Ann Girling, who now runs a private practice that helps PND sufferers (and talks about her work in the video above) plus Trudi Enright, of the South West Yorkshire NHS Trust, who spoke about her own experience of PND.