What's Your Big Idea?
Mon, 04 Nov 2013 05:00:00 GMT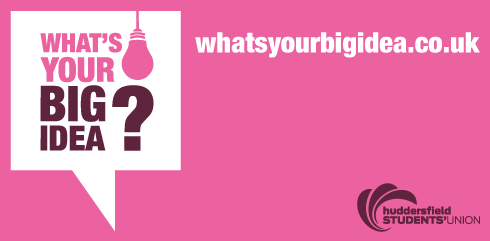 ‌Approximately every three years, the Students' Union develops and publishes their strategic plan, which supports their mission: to make student life better.
They examined the results from the National Student Survey, the International Student Barometer, The Times Higher Student Experience Survey and the UK Student Barometer.
They also commissioned a substantial piece of original research that over 1,400 Huddersfield Students participated in, which included a series of intensive focus groups.
There are three key strands to what our Students' Union want to do.
(1) Help students with academic studies and professional development, to ensure that they're more employable after graduation.
(2) Make sure students have an enriching and fun student life, so that their time in Huddersfield is both enjoyable and entertaining.
(3) Support student wellbeing and finances, to make sure students are healthy and can afford their studies.
In order to achieve this they need to make sure they engage with students on their terms, communicate effectively to understand their issues and act sustainably in everything that they do. Underpinning all this is their approach to people: making sure the Students' Union recruits, retains and develops the right staff to deliver on these objectives.
That makes seven things that they're going to focus on over the next three years.
All of week commencing 4 November their 'What's Your Big Idea' campaign will be collecting student ideas for change. Across campus there will be face-to-face activity as well as a custom built website for people to submit their ideas.
To find out more visit www.whatsyourbigidea.co.uk (live from Monday 4 November).