Thinking big
Mon, 19 Mar 2012 16:39:00 GMT
Lecturer helps to unite the world of cognitive science – from East to West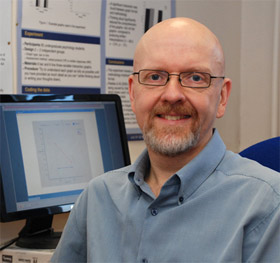 A University of Huddersfield lecturer is co-organising a major international conference, to take place in Sapporo, Japan, which will gather hundreds of the world's leading experts in cognitive science. They are working in fields that range from the intricacies of the human mind to the latest breakthroughs in artificial intelligence and robotics.
Meanwhile, Dr David Peebles (pictured), who has been a senior lecturer in cognitive psychology at the University's Department of Behavioural and Social Sciences since 2002, is pushing ahead with research that is leading to a better understanding of how people interpret diagrams and visual displays.
In an age that is bombarded with visual information, Dr Peebles aims to find better ways of presenting data, leading to fewer errors in interpretation.
The 34th Annual Conference of the Cognitive Science Society (CSS) – of which Dr Peebles has been a member since 1999 – is to be held in August 2012.
Sapporo was chosen as the venue so that closer links could be forged between Eastern and Western researchers working in the multi-faceted field, which includes disciplines such as psychology, artificial intelligence, computer science, philosophy, and linguistics. Until now, the CSS has largely been an organisation for specialists in the West, said Dr Peebles, but cognitive science is rapidly developing in countries such as China, Korea, Malaysia and Japan, where there is special emphasis on research into robotics.
Therefore, it was decided to locate the next CSS conference in the East, so that it had a truly global dimension. Dr Peebles was asked to share the organisation after he and a colleague had run a successful conference held in Manchester in 2009.
He has been working on the Sapporo event for several months and it is a huge undertaking. There will be more than 1,000 delegates and over 600 academic papers will be presented. Dr Peebles has the task of appraising all of the papers and arranging for them to be peer reviewed.
"Organising the conference is hard work but an exciting challenge and a great honour. If it also leads to greater global collaboration between cognitive scientists it will be well worth the effort" said Dr Peebles.
Diagrammatic reasoning
Dr Peebles is continuing his own research into diagrammatic reasoning – an examination of how people understand or work with information presented in maps and diagrams. He has developed a computer programme that reads diagrams using simulated eye movements, leading to greater understanding of how people interpret diagrams and their thinking processes as they do so.
"The more you understand how people do this, the more you understand how they make errors," said Dr Peebles. He has received funding from the Higher Education Academy to produce computer-based teaching materials that will enable students to interpret graphs more accurately.
"The broader aim is a deeper theoretical understanding of how people process information in diagrammatic form and to use that knowledge to help produce better diagrams and instruction on how to interpret them appropriately," said Dr Peebles. This is especially important in view of the massive amount of visual information that society is now producing.
The UK government for example has published data such as police authority performance measures in diagrammatic form for several years and its new 'Open Data' initiative includes and encourages the development of apps to present data in the form of graphs to make it easier for people to understand (http://data.gov.uk/apps/numberhood).
A new research area that has been dubbed "human-information interaction" is now dedicated to the discovery of better ways to present such complex data and it is hoped that this will result in diagrams and information displays that are less likely to be misinterpreted or cause confusion.