Students launch clothing brands with support from Xamax
Tue, 08 Oct 2013 15:49:00 BST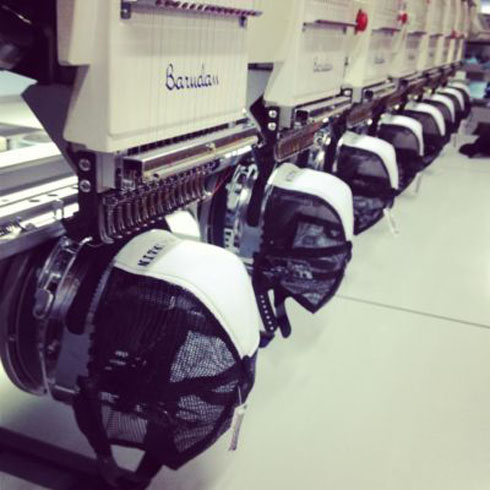 Local clothing manufacturer and work wear specialist, Xamax, has teamed up with University of Huddersfield design students to provide support and advice on developing, manufacturing and launching three new clothing brands to the market.
Working with 12 first year Fashion and Textile Buying Management students, Xamax supported the budding young designers to create three new brands called Identitee, XYZXY and Black Rain by offering advice and recommendations on how to take an idea from concept to manufacture.
The range of t-shirts and tops, which are designed specifically with students in mind, have been manufactured by Xamax. They are now available to purchase from ASOS under the name The Dye House Boutique. To purchase the new designs, people can log onto the ASOS website, search for The Dye House Boutique within their search facility and then select their desired items from the designers.
Graham Thompson, Managing Director of Xamax, comments: "Knowing how difficult it can be to get hands-on experience within the world of fashion and design, I approached the University of Huddersfield with a view to working alongside the course leader to develop a module that would give students the chance to put their ideas into practice.
He adds: "As a result we developed a new module which will now sit within the Fashion and Textile Buying Management course from next year. The students have worked hard to develop three new clothing brands from concept right through to manufacture. The finished designs are great and of an extremely high standard, showcasing the students' skills and talents. We look forward to seeing the brands grow in popularity and are proud to play a part in their success."
Thom Wood a student who is working alongside Xamax to produce Identitee, XYZXY and Black Rain, said: "Having the opportunity to create and manufacture our own clothing ranges has been fantastic and from a personal view point this initiative is continuing to develop my skills and understanding of the industry. Xamax proved invaluable, offering their expertise on how we can take a concept from design through to manufacture. The fact that the Identitee, XYZXY and Black Rain ranges are now available to purchase from ASOS makes the process even more worthwhile. We couldn't have been any happier."
Based in Wakefield, Xamax have more than 20 years' experience working within the work wear and sportswear manufacturing industry. Throughout the UK they provide embroidered and screen printed garments to more than 10,000 businesses. With a full range of clothing available including work trousers, polo shirts, fleeces and bodywarmers, as well as much more, Xamax have every work wear clothing need covered.
For more information please visit www.xamax.co.uk or call 01924 266668.