Podiatry Clinic Staff Offer
Mon, 04 Nov 2013 05:46:00 GMT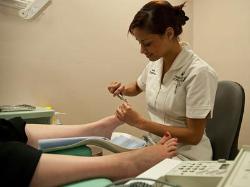 Our Podiatry Clinic is offering staff and their families a discount on treatments. You will now pay just £5.00 (usual price £10.00) on Thursday 28 November and Thursday 5 December.
Call 2201 internally or 01484 472201 externally or email podiatry.clinic@hud.ac.uk to make your appointment.
The clinics run from 1.15pm and they would recommend that you allow up to two hours for your appointment.
Getting into the Christmas spirit they are offering treatment vouchers which can be bought as Christmas gifts for friends and family. Please ask at the Clinic Reception when you book in.