Laura Greenwood shortlisted for SDC CSI Colour Award 2013
Wed, 09 Oct 2013 08:26:00 BST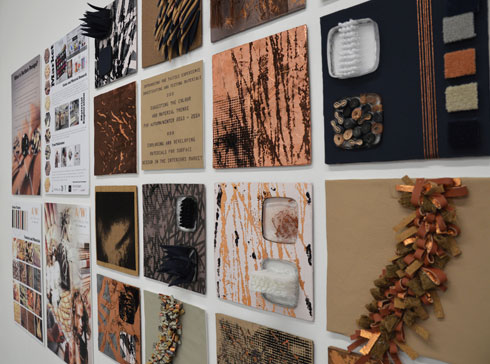 Laura Greenwood, who graduated in July 2013 from the BA Surface Design for Fashion & Interiors, has been shortlisted for her trend: 'Craft Revolution - Human Age'
This competition has attracted huge interest with over 150 students registering from countries including India, Australia, USA, South Africa, Ireland, Singapore and the UK.
The top ten students are from UK, Australia, and Singapore, with successful universities including Norwich University of the Arts, University of Huddersfield, University of Central Lancashire, University of Leeds, Winchester School of Art, RMIT (Australia), Lasalle College of the Arts (Singapore), The Arts University Bournemouth, University For the Creative Arts and Cleveland College of Art and Design.
The winning student will receive £500, the CSI Colour Award 2013 and a trip to India to be presented with their award.
The names of the winner and runners up will be announced in the next couple of weeks.