HS2 Conference – Is there owt in it for t'North?
Wed, 16 Oct 2013 12:55:00 BST
Speakers include Shadow Rail Minister Lilian Greenwood MP, former British Rail manager Chris Stokes and the Railway Doctor Paul Salveson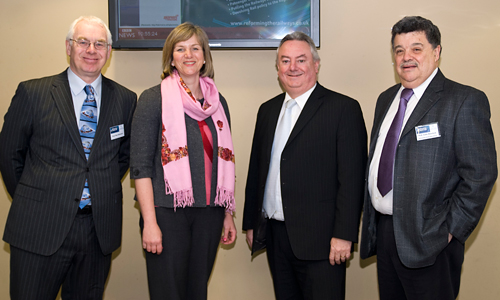 Pictured above: Railway Doctor Professor Paul Salveson, Shadow Rail Minister Lilian Greenwood MP, Vice Chancellor Professor Bob Cryan and Professor Colin Bamford
AS the proposed £50 billion HS2 rail line continues to generate controversy, the University of Huddersfield is to stage a day-long conference at which all the 'pros and cons' will be argued. The aim is to discover whether or not the North of England really does stand to gain from the massive project.

The event, to be held on 15 November, is called HS2: Is there owt in it for t'North?. Speakers will include politicians, leading figures in the rail industry, plus academic researchers. They will present their views during the morning session, and a wide-ranging debate will follow.
"We will be taking a balanced view of the whole issue," says the University of Huddersfield's Professor Colin Bamford, an expert on the economics of transport. And this means that he will be adopting a rather different stance on HS2 to his colleague, Professor Paul Salveson, a leading advocate of community railways who is more sceptical and believes that the money earmarked for the project to link London and the North with a high-speed line would be better spent on improving the existing network.
Professor Bamford says that he too was once sceptical about HS2, but has become an advocate for the project, believing that it will bring employment and economic benefits to the North and help to solve a looming crisis of insufficient capacity for passengers and freight on Britain's railways.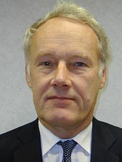 Among the speakers taking part will be Labour MP Lilian Greenwood, who is Shadow Rail Minister, who will deliver a keynote address, expected to support HS2. A case against the new line will be made by former senior British Rail manager Chris Stokes (pictured left).
Other speakers include Andrew McNaughton, who is Technical Director of the HS2 Executive, West Yorkshire Metro chair Cllr James Lewis, plus Huddersfield Labour MP Barry Sheerman and Colne Valley Conservative MP Jason McCartney. The conference finishes with a question and answer session followed by a panel discussion.
It is expected that the event will be attended by representatives of local authorities and industry plus rail pressure groups, in addition to members of the public. It follows a successful event held at the University of Huddersfield in 2012, which debated Government rail transport policy changes.
Professor Bamford said that since the conference was conceived, controversy over HS2 has continued to rise so that interest is greater than ever in seeking to get a fairer deal for the North when it comes to transport investment.
The conference begins at 10.30am and tickets are £80 for full delegate rate and £40 for voluntary organisations. Lunch is provided. To reserve a place or for further information, contact Elizabeth Howe, Events and Communication Assistant – HS2 Conference at eventsmanagement@hud.ac.uk or telephone 01484 473265 or 07717 683674.