Disease, abuse, child sacrifice for Ugandan children of prisoners
Fri, 25 Oct 2013 15:09:00 BST
Huddersfield lecturers' fact-finding visit to Uganda's Wells of Hope Children of Prisoners organisation
Pictured l-r: The University of Huddersfield academics Dr Sharon Wray, Kathryn Sharratt and Ben Raikes who were invited to Uganda for a study week.
WHEN a parent is jailed, grandparents are often faced with the task of caring for children, which can pose serious social and economic problems and place a strain on family relationships. In some societies, these issues are acute but they are generally ignored, despite the impact they have on people who are often struggling to survive. Now, a team based at the University of Huddersfield is planning a research project that will investigate the subject internationally.
It comes in the wake of a fact-finding visit made by three of the University's researchers to Uganda, where women whose husbands are imprisoned often find it necessary, for their own survival, to remarry and have only sporadic links with their children.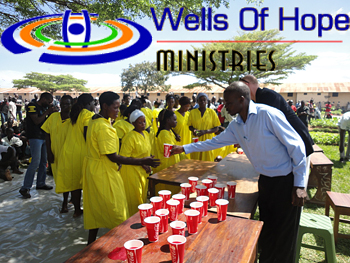 "If these children are lucky, they will be cared for by their grandparents. However, some children are abandoned, with the result that they are vulnerable to disease, abuse and even child sacrifice," according to lecturer Ben Raikes, one of the trio who visited Uganda.
"In addition, some children have parents who are on Death Row, so that they are living with the uncertainty of whether their parent will be executed," he added.
The University of Huddersfield took the lead on a recently-concluded EU-funded project named COPING, which investigated the problems faced by children of prisoners throughout Europe. It found that such children are much more likely to experience mental health problems and often suffer stigma and other social disadvantages. The research led to a number of key recommendations.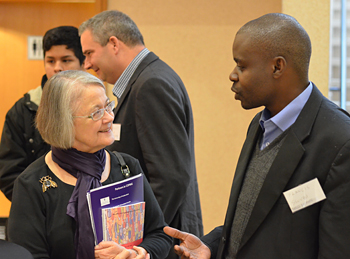 P‌ictured: Baroness Hales talks with Francis Ssuubi, the director of Wells of Hope, an Ugandan organisation which helps children of prisoners.
Francis Ssuubi, who is director of Ugandan organisation Wells of Hope, which operates a school for the children of prisoners, learned of the COPING Project and made contact with its leader, the University of Huddersfield's Professor Adele Jones. She paid a visit to Uganda and Mr Ssuubi then came to Europe for the final meeting of COPING, held in Brussels.
With the link established, University of Huddersfield academics Dr Sharon Wray (Reader in Sociology), Kathryn Sharratt (Research Assistant) and Ben Raikes (Senior Lecturer) were invited to Uganda for a study week in which they visited the Wells of Hope Academy and learned about the problems faced by children of prisoners and the economic and social pressures placed on grandparents caring for grandchildren.
"Often, the grandparents just have a little bit of land for their own subsistence, so finding enough food to feed grandchildren as well is very tricky, let alone the cost of medicine," said Ben Raikes. Other problems include the practical difficulties of long journeys to obtain medicine or to visit a parent in jail."
Future research
In this video Francis Ssuubi talks about how his time in prison led him to found what he says may be the only school in the world specifically for children of incarcerated parents.
Future research by the University of Huddersfield team, alongside Ugandan colleagues, will also focus on the impact of caring for grandchildren on grandparents.
Dr Sharon Wray said: "When I asked a grandmother what is the one thing that would improve your life, she said, I want someone to sit with me in the evenings. I am lonely."
While in Uganda, the University of Huddersfield trio visited both a men's and women's prison and were deeply moved by their experiences and the work carried out by Wells of Hope.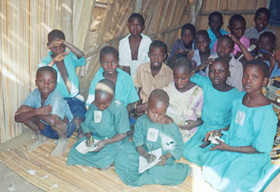 Pictured: Pupils at the Wells of Hope Academy in Uganda.
‌Kathryn Sharratt commented: "The mothers and fathers in prison expressed their gratitude to Wells of Hope. Knowing that their children were safe and properly cared for was a huge source of relief. Parents were proud of their children's achievements at the school, such as learning to speak English and acquiring good manners, and looked forward to their children visiting the prison with the help of Wells of Hope."
The University of Huddersfield and colleagues at Makerere University in Kampala are now making a bid for funding, in order to carry out research into the issue of grandparent-carers of children with imprisoned parents. Partnerships are being formed with Romania, Trinidad and Lithuania.
In each country, universities will team up with a non-governmental organisation (NGO). In the case of the University of Huddersfield, one of the NGOs is the Manchester-based Partners of Prisoners Support Service (POPS), with which strong links have already been formed through the COPING Project.