Crime wave fears as house building planning rules deregulated
Wed, 16 Oct 2013 14:39:00 BST
"...decades of policy, guidance, incentives and regulations to encourage housing to be built to deter offenders will be lost..."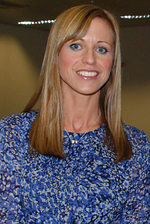 FEARS that new planning rules might lead to a surge in crime have led a University of Huddersfield expert to hold talks with senior figures in government and policing, aiming to ensure that there is no relaxation in the requirement for housing developments to incorporate crime prevention measures.
And Dr Rachel Armitage (pictured) can support her case with a new book that demonstrates in detail the effectiveness of architectural design and housing estate layout in cutting criminal activity.
The UK is a world leader in adopting and developing the principles of Designing Out Crime and they have proved to be a big success, says Dr Armitage, who is Reader in Criminology and Associate Director of the Applied Criminology Centre at the University of Huddersfield. Crime can be reduced by more than half when measures are introduced.

Currently, police forces and local authority planning departments work together to ensure that planning applications are assessed for crime risk, and that proposed developments incorporate crime prevention through environmental design measures.
‌But Government plans to boost house building by deregulating the planning system could sweep this away, says Dr Armitage, who has been researching, writing and teaching 'designing out crime' for more than ten years.
So, as the consultation period over the planning changes nears its end, she has been in talks with organisations such as the Association of Chief Police Officers, and she has held meetings with the recently-appointed Victims' Commissioner, Conservative peer Baroness Newlove (pictured above right) – widow of murder victim Gary Newlove and a campaigner against anti-social behaviour.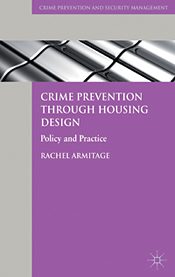 Dr Armitage expressed her concern over the proposed changes: "This is a devastating blow for those concerned with the security of homes, and raises many concerns – not least the fact that decades of policy, guidance, incentives and regulations to encourage housing to be built to deter offenders will be lost."
‌Crime Prevention through Housing Design: Policy and Practice
Dr Armitage's new book is entitled Crime Prevention through Housing Design: Policy and Practice.
"It is based on academic research but aims to get the message across to practitioners such as planners, architects and the police," sai‌d the author, whose career as a criminologist has included a role as a Senior Consultant for crime reduction body Nacro and a year as a Senior Research Fellow at the Jill Dando Institute of Crime Science.
"A lot of people think that designing out crime is about physical security, such as locks and bolts, but it is really about very subtle changes in architecture," explained Dr Armitage.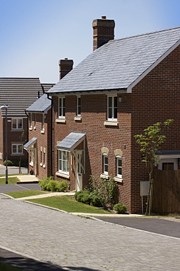 For example, a housing estate could be designed so that sight lines between properties are not obstructed by high walls or overgrown trees – a technique known as "natural surveillance". Footpaths – enabling would-be offenders to come and go quickly and easily – can be limited, and other measures include narrowing the entrance to an estate and introducing a change in road colour or changing the texture to red brick.
"This is a subtle way of giving an impression to offenders that they are coming to a private area, without having to have any gates or fences," said Dr Armitage.
Her book analyses the effectiveness of such measures when they are introduced to housing developments, with reductions in crime of up to 75%.
Crime Prevention through Housing Design: Policy and Practice, by Rachel Armitage, is published by Palgrave Macmillan.
Modern housing image courtesy of Simon Howden at FreeDigitalPhotos.net