A gift of wisdom
Wed, 29 Feb 2012 13:25:00 GMT
Major mentorship scheme will enable top clinical researchers to achieve their full potential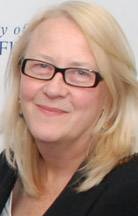 A PROFESSOR at the University of Huddersfield has spearheaded a major project designed to ensure that a group of England's most promising healthcare researchers achieve their full potential.
It is also hoped that the scheme will help clinical researchers develop interventions that will impact on the quality of life of patients – and play a part in Britain's economic regeneration.
Annie Topping (pictured) is Professor of Nursing at the University and Director of its Centre for Health and Social Care Research. She is also the Co-Director of a mentorship scheme run by the Academy of Nursing, Midwifery and Health Visiting Research (UK) which, in collaboration with several partner organisations, submitted a successful bid for funding from the Department of Health.
A total of £189,719 has been awarded for a three-year project to provide a Mentorship Scheme for awardees of CNO Clinical Academic Training (CAT) and CSO Healthcare Scientist Research Programmes. It means that an elite group of some 30 researchers in the fields of nursing, midwifery, health visiting, allied health professions and healthcare scientists will receive regular mentoring from research leaders at the top of the healthcare profession.
Also, other awardees undertaking CAT and Healthcare Scientist Doctoral and Masters programmes will be able to access mentoring as the programme rolls out over the next two to three years.
"The mentor may not be from the same speciality but the scheme will be all about challenging people, motivating them and encouraging them to do new things and grasp every opportunity," said Professor Topping. Mentorship, she added, was "a gift of wisdom".
The researchers to be mentored – or mentees – are themselves highly qualified and experienced in their healthcare fields. Typically, they are experienced clinicians or scientists working in NHS settings such as teaching hospitals, who have acquired PhDs and embarked on clinically-focussed post-doctoral research, having been awarded scholarships from the National Institute for Health Research.
They constitute an elite group, says Professor Topping, and in the future regular meetings with their mentors, under the Mentorship Scheme, will provide another ingredient to accelerate their success and help them achieve their goals. And their research will benefit patients.
"Their background as nurses, midwives, health visitors, allied healthcare professions and healthcare scientists means their research is often very much at the bedside, or leading edge looking at aspects of care that will make a real difference to the quality of people's lives," said Professor Topping.
The Government also expects research through programmes like CAT to aid economic regeneration.
"Very often these researchers are developing new devices or interventions that that could have cost-effective implications," explained Professor Topping. "Some of them might be involved in refining tests or procedures making them more economically efficient. Some may be looking at different ways of delivering services, which, given the cost of health care, could have massive economic effects," she added.
"Also, if we are at the leading edge of redefining the way health care is delivered in England that will make a massive impact globally. We have this fantastic socialised medicine system, the NHS, and it is a wonderful testing bed for new ideas."
The Mentorship programme award is hosted at the University of Huddersfield by Professor Topping who is leading for the Academy of Nursing, Midwifery and Health Visiting Research (UK) and its core organisations the Royal College of Nursing, the Royal College of Midwives, and the Community Practitioners and Health Visitors Association. The other partners are the University of Hertfordshire, Imperial College and the Allied Health Professions Research Network.