3M New Ventures President launches Honeypot for student ideas
Mon, 28 Oct 2013 11:50:00 GMT
Stefan Gabriel, Huddersfield's Visiting Professor of Innovation, helps students innovate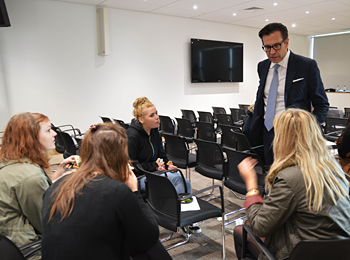 ‌Pictured: 3M's New Ventures President and University of Huddersfield's Visiting Professor of Innovation, Stefan Gabriel, talks to students at the launch of the Honeypot project.
‌‌HUNDREDS of students at the University of Huddersfield have a unique on-switch for their bright ideas.
Using specially-created software they are able to pitch their ideas and then assemble teams of fellow students who between them have the requisite set of skills. There are prizes to be earned and one of the world's leading experts on innovation will pore over the proposals and possibly act as a mentor.
It is happening as part of a project named Honeypot – which stands for Huddersfield Open Network for Enterprise Creativity, Prototype Design and Test. Backed by the Royal Academy of Engineering, Honeypot includes a bespoke software programme which has now gone live, officially launched by Stefan Gabriel, President of 3M New Ventures, which seeks out and supports new technologies and ambitious entrepreneurs around the world.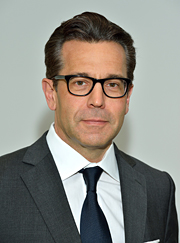 Earlier this year, Stefan Gabriel (pictured left) was appointed Visiting Professor of Innovation at the University of Huddersfield, under a scheme launched by the Royal Academy.
Five hundred second-year students from selected courses within the University's School of Art, Design and Architecture and School of Computing and Engineering are eligible to register with Honeypot. Once they have done so, if they have an idea for a new product or design project, they can upload the concept to the website and advertise for the skills they require to help them with development.
They are allowed to recruit up to five fellow students and once the project teams are assembled, those which have attracted the maximum number of participants go through to an online voting stage. The idea that scoops the most votes wins a prize of vouchers, but there is also the prospect of cash backing to take projects into the proof-of-concept phase.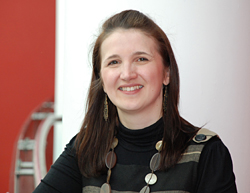 Meanwhile, Stefan Gabriel, as Visiting Professor of Innovation, will be able to dip into the on-line Honeypot and appraise the ideas he finds there.
"If Stefan sees any idea he wants to take forward or team he wishes to mentor, he has the option to contact the people within that project," explained Dr Jess Power, (pictured right) who is Director of Teaching and Learning in the School of Art, Design and Architecture.
She added that a proof-of-concept 'boot camp' would be organised for the Honeypot projects that could be taken forward.
The scheme – launched by Stefan Gabriel on his latest visit to the University – will run until mid-December, when the first prizes are awarded. Then the Honeypot is cleared, so that it can begin again in early 2014.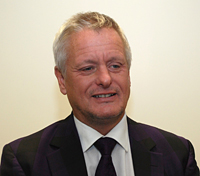 Honeypot is one of two projects that are being run at the University of Huddersfield with the backing of the Royal Academy of Engineering, with total funding of £180,000 over three years. The other scheme is named ICE, which stands for Innovation Creative Exchange. Jonathan Sands who heads the leading brand agency Elmwood is the Visiting Professor of Innovation leading this project, which includes the School of Art, Design and Architecture's 24-Hour Design Challenge, in which groups of students work against the clock to solve design problems.