Wells of Hope
Tue, 26 Nov 2013 05:00:00 GMT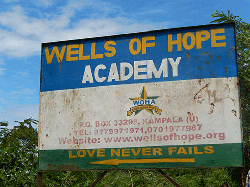 Our Social Work academics will be hosting a talk and presentation on Thursday 5 December, 6.15pm to 8.15pm in the Business School (BSG/23).
Ben Raikes, Sharon Wray and Kathryn Sharratt attended a study week relating to children of prisoners in Uganda in September 2013, hosted by Wells of Hope, a charity that runs a boarding school for children with parents in prison.
They learned about the acute dangers facing children of prisoners in Uganda, which include child sacrifice and abuse. They visited imprisoned parents in both the women's and men's prison, including Death Row, and also met some grandparents who care for children of prisoners in villages several hours drive from the capital, Kampala.
This presentation will focus on what they learned from the study week and will be illustrated with photographs. Francis Ssuubi, the Director of Wells of Hope, has kindly agreed to join the presentation by Skype to answer any questions the audience may have.
Everyone is welcome to attend, in particular social work students, social workers and those interested in international social work will find it of interest.
You can book your place here
For further information please contact Sarah Boyd email: S.Boyd2@hud.ac.uk Tel: 01484 47(3324) or Ben Raikes email: B.Raikes@hud.ac.uk Tel: 01484 47(3610).