Top pharmacy executive becomes Hudds visiting professor
Thu, 21 Nov 2013 11:18:00 GMT
Lloyds Pharmacy's Steve Howard brings 25 years of senior executive experience to his role as visiting professor at the University of Huddersfield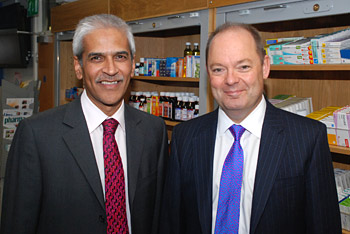 Huddersfield Visiting Professor Steve Howard is pictured with the University's Dr Mahendra Patel.
ONE of the UK's top pharmacy executives has become a Visiting Professor at the University of Huddersfield. He will aid students as they equip themselves with the profession, practical and business knowledge that they need to make a success of their careers.
Steve Howard – who is Superintendent Pharmacist for the giant Lloyds Pharmacy chain – was special guest at the annual Oath Ceremony (pictured below), which is established as a feature of pharmacy degree courses at the University of Huddersfield. The aim now is that he will add to the teaching of Pharmacy Practice Modules as well as provide advice and support, and where possible, help those seeking Pre-Registration positions following graduation.
Also, it is expected that his recently-published book, Management for Community Pharmacy, will be a significant teaching aid, particularly to final-year students.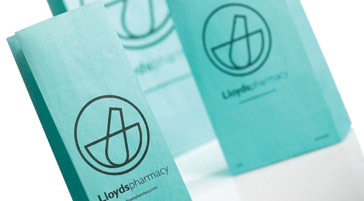 Professor Howard has operated at senior executive level in the pharmacy profession for 25 years. He is Quality and Regulatory Director for Celesio UK, the group which owns Lloyds, a chain of more 1,650 pharmacies throughout the UK, employing some 17,000 staff and dispensing over 150 million prescriptions annually.
"I am honoured and thrilled to be working with the University of Huddersfield and am very excited about the opportunity of forging a strong collaborative relationship with them," Said Mr Howard. "I have always believed strongly in the importance of the links between academia and pharmacy practice and am very much looking forward to sharing my experiences with the pharmacists of tomorrow.
"I have already been made to feel very welcome by all the staff in the department and am starting to feel like one of the Huddersfield Team!" he added.
Extend research activity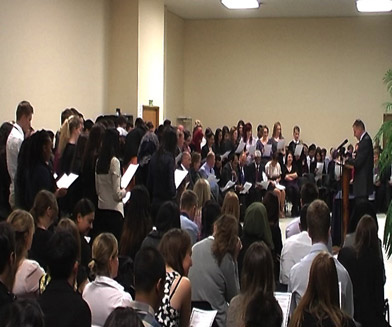 It was on the initiative of University Fellow and Senior Lecturer, Dr Mahendra Patel, that Steve Howard was invited to become a Visiting Professor at Huddersfield. "With his vast depth of knowledge and experience within the pharmacy industry, I realised that he would be a tremendous asset to the department and the University, and an ideal role model for our students to emulate.
The pharmacy curriculum at the University of Huddersfield prepares students to work in a wide variety of settings including community pharmacy, hospital pharmacy and industry – and all require business, managerial and financial skills, added Dr Patel.
Among Dr Patel's wide-ranging portfolio of academic and professional work, his network of research active pharmacists is now spanning the Yorkshire and Humber region. It is intended that Steve Howard, through Lloyds, will help expand this further to create a greater infrastructure to help deliver high quality research to drive up the evidence base and ultimately to improve health outcomes.
Said Dr Patel: "The department is keen to further extend its research activity and Steve, through Lloyds and their numerous community and hospital-based pharmacies, will be pivotal in facilitating this growth.

Steve also works with and advises a number of governmental and professional organisations, including the Department of Health on policy and other health related matters, the General Pharmaceutical Council in helping with regulating the Pharmacy Profession, as well as the Royal Pharmaceutical Society in terms of strong leadership and professional development, all essential in shaping the future of the pharmacy profession."