Top award for machine tool Knowledge Transfer Partnership
Fri, 01 Nov 2013 15:56:00 GMT
Project results in record efficiency gains of up to 300 per cent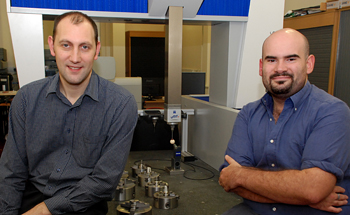 Pictured: Dr Simon Fletcher with postgraduate student Tom Furness
‌A PARTNERSHIP with the University of Huddersfield has enabled one of Europe's leading specialist engineering firms to achieve massive gains in efficiency. The successful project has been described as "Outstanding" by the UK Technology Strategy Board, which is the UK's official innovation agency.
The company is Wetherby-based NTR Ltd, which specialises in the repair of cutting tools used for boring, milling and turning. It wanted to increase its levels of automation, in order to reduce costs and achieve quicker turnaround times. So it formed a Knowledge Transfer Partnership (KTP) with the University of Huddersfield, home to a globally-respected Centre for Precision Technologies.
In this video Craig Naylor, Managing Director of NTR Ltd, talks about the long running benefits that the KTP has given to the company.
‌The two-year KTP has now concluded, with NTR able to record efficiency gains of up to 300 per cent. And the Technology Strategy Board has given the project its highest rating of 'Outstanding'.
Postgraduate student Tom Furness – who has completed an MSc degree in engineering at the University – was appointed as the KTP's Associate and was mainly based at NTR's factory. But he paid regular return visits to the University of Huddersfield, to liaise with his KTP supervisors, Dr Simon Fletcher and Dr Andrew Longstaff.

The goal of the KTP was stated as "to introduce and embed reverse engineering technologies to facilitate automated tool reclamation and open up new market opportunities".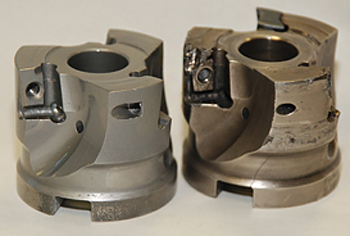 Tom Furness worked on the development of CNC (Computer Numerical Control) programs which can handle any tool that NTR is asked to recondition. The semi-automation of the process reduces any possibility of human error, meaning big efficiency gains. Also, the company now has a compact number of "core programs" which can rapidly be adapted to the specific profiles of parts and tools that come into its factory. (Pictured: Before and after the tools are reconditioned).
While the KTP was in progress, NTR made a major investment in a new five-axis machine tool. Tom Furness received training from the machine's manufacturers, multinational company Hurco, and was able to pass on his expertise to NTR employees and drafted a special training programme.
Dr Fletcher was delighted with the success of the KTP and its top grade: "For a successful KTP you need good management within the company and good support from the university, but the Associate is key, and Tom was a very good Associate."
Tom Furness is currently working at another leading Yorkshire engineering company and has embarked on part-time PhD study, supervised by Dr Fletcher.