Technical Professional Bodies Event
Wed, 06 Nov 2013 14:00:00 GMT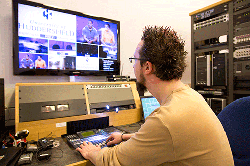 As technical professionals, one way to keep informed and get involved in your profession is through membership of professional bodies.
This can be used as a vehicle in promoting your continuing professional development and/or career progression by taking the opportunity to consider professional body memberships.
An event has been organised to highlight the importance of professional membership and to showcase some of the professional bodies you could consider joining.
The University will pledge to fund £50 towards the first year of a professional body membership for technical staff.
Event Details:
Wednesday 27 November, 1.00pm until 2.00pm
Conference Room on Level 7 CSB
You can register your attendance on EventBrite here
Pro-Vice Chancellor Professor Tim Thornton will open the event followed by HEaTED, a leading organisation which supports the professional development of technical staff in Higher Education.
Colleagues in schools and services who are already members of professional bodies will then briefly reflect on their experience of joining and the benefits they have gained from it.