Speakers at University conference clash with their views on HS2
Mon, 18 Nov 2013 15:49:00 GMT
But a Labour shadow minister signals her party's support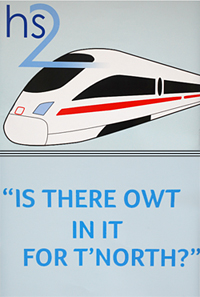 A LEADING Labour politician signalled the party's continuing commitment to HS2 when she was the keynote speaker at a University of Huddersfield conference which gave a platform to all shades of opinion on the controversial rail project, projected to cost up to £42 billion.
Lilian Greenwood, MP for Nottingham South, is Shadow Rail Minister. Labour has always supported the HS2 North-South rail link, she said. But she laid stress on the need to increase rail capacity rather than pure speed. And although she believed that the project was basically affordable, she criticised the Coalition Government for losing control over costs. A Labour Government would seek to drive them down, she said.
Ms Greenwood also said that regional devolution of funding for all forms of transport was vital and that HS2 should be fully integrated with the Inter-City rail network, with fares tightly regulated.
"We won't allow HS2 to become a rich man's toy," she said. "And to those who say that we need to invest in the current network rather than a new line, I say we need both."
The case for HS2 was based on the assumption of a two per cent growth in rail traffic. But in reality, growth was running at five per cent, added Ms Greenwood.
"A new North-South line has to be part of a plan for the future, not just to deal with existing problems," she said.
In the videos below listen to experts, who attended the HS2 conference at the University, voice their difference in opinion on the subject of the high speed rail link.
Lilian Greenwood was speaking at a conference entitled HS2: is there owt in it for t'North?. Organised by the Business School at the University of Huddersfield – which is a major centre for the study of transport and logistics – it invited speakers from across the spectrum of opinion.
Although Ms Greenwood seemingly affirmed Shadow Cabinet support for HS2, Huddersfield's Labour MP Barry Sheerman spoke strongly against it. He was critical of decision-making processes in Britain – especially when it came to infrastructure issues – and said that a series of independent reports had come out against HS2. He himself had been on a visit to France to quiz authorities in towns affected by its high speed rail network.
"I was told that if your towns are emptying now, once they have high speed rail they will empty even faster," said Mr Sheerman, who believes that Labour is becoming more sceptical about HS2, referring to recent comments by Shadow Chancellor Ed Balls.
Mr Sheerman urged planners to look at patterns of development in a Britain that was no longer a major manufacturing nation. The nature of modern business meant that high speed broadband should be a higher priority than high speed rail.
The Conservative MP for Colne Valley, Jason McCartney – who serves on the All-Party Transport Select Committee – spoke in favour of HS2, on the grounds that there was an urgent need to increase capacity in Britain, where demand for rail travel had doubled since 1980. The construction of a new rail link would open up the number of slots on existing rail lines that were available to companies such as Grand Central.
But Mr McCartney struck a pessimistic note when he said that a "a cynical coalition" – ranging from localists to political opportunists and "bandwagoners who are against everything, but for nothing" – was reducing the likelihood that HS2 would ever be built.
Speakers with a rail industry background provided starkly contrasting views. Professor Andrew McNaughton, who is Technical Director for HS2, analysed population increases and the growth in demand for rail travel. Investment had meant the UK had the best conventional rail network in Europe, but there was a limit to the "open heart surgery" that could be carried out.
Meanwhile, Britain was becoming more and more imbalanced, because of London's share of economic activity. HS2, with increased connectivity between major cities, would be all about the North West, Yorkshire and the Midlands, said Professor McNaughton.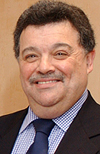 "The fact that it goes to London would just be a bonus," he added, claiming that the HS2 project would create at least 100,000 jobs and return an estimated £2.30 for every pound spent.
"It will be the most profitable railway that this country has seen!"
‌An opposing view was taken by former British Rail manager Chris Stokes, who is now an adviser to anti-HS2 campaigners. He questioned the claims of economic and business benefits and stated that there were alternative means to meet demand for capacity – although this might be peaking, with evidence for a decline in business travel by rail.
‌He said that rail journey times in Britain – in terms of links with the capital city – were already good. And HS2 would be of greater benefit to the hub – i.e. London – than the regions, where the high speed line would be a "zero sum game". For example, when HS2 reached Leeds, it would not suck economic activity out of London, but out of neighbouring towns and cities such as Bradford, Huddersfield and Wakefield.

Mr Stokes said that claims by KPMG that HS2 would bring economic benefits of £15 billion a year were "frankly incredible". ‌He believed that politicians were backing the scheme because it was a "sexy, dynamic legacy project".
‌Conference sessions were introduced by Professor Colin Bamford (pictured above right) and Professor Paul Salveson (pictured left) of the University of Huddersfield, and the day-long event also included panel discussions plus question and answer sessions.