Research project provides sustainable future for 'Green Ethiopia'
Thu, 14 Nov 2013 15:34:00 GMT
Professor's forty-year mission benefits as many as 15 million people in Ethiopia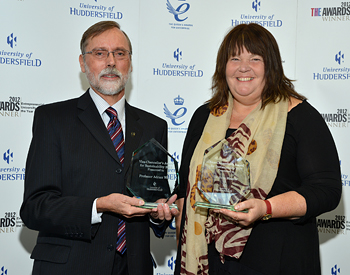 Professor Adrian Wood is pictured with Dr Julia Meaton, who is also a research colleague in the new Centre for Sustainable and Resilient Communities. The pair both received Sustainability Awards this year from the University for their individual research.
MILLIONS of Ethiopians have gained from a ten-year research project headed by a University of Huddersfield professor.
It is reaching its conclusion, but this not does signal the end of Professor Adrian Wood's near-40 year involvement with the forested regions and wetlands of South West Ethiopia. He is continuing to work on a new 2.4 million euro project that will help to conserve the genetic resources of wild coffee. This is of global significance, because South West Ethiopia is the original home of the prized Arabica bean.
Since the 1990s, Professor Wood – who heads the University of Huddersfield's new Centre for Sustainable and Resilient Communities – has participated in a series of projects in the region that he terms "Green Ethiopia", which is a major source of water for the Nile.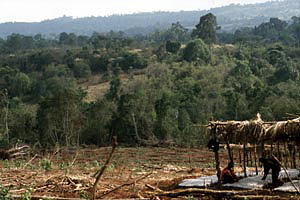 Pictured: Forest fringe clearing for agriculture, south-west Ethiopia.
‌‌Its tropical forests are vital to the region's ecology and economy, but more than 75 per cent of them have been destroyed. Professor Wood and his collaborators set out to halt this process using a system known as participatory forest management (PFM). This empowers communities, giving them legal rights, enabling them to manage the forest and develop small businesses so that they can harvest and sell non-timber resources, such as coffee, honey and spices. This adds value to the forest so communities will retain it.
‌Between 2003 and 2013, during two phases of a PFM project in South West Ethiopia, more than 100,000 forest users have been directly affected by the University of Huddersfield's work – which Professor Wood terms "action research" – and there have been indirect benefits to as many as 15 million people in the region who use forest products.
A series of forest management associations have been formed and communities are now actively managing more than 100,000 hectares. Among the flourishing new enterprises are six honey marketing companies, while a tribe of hunter-gatherers, known the Mejengir, have become increasingly settled, earning money to support their community through the sale of honey and coffee.
National and international trade links have been forged, so that South West Ethiopian traders have formed relationships with overseas organisations and businesses such as the UK's Body Shop chain.
Working to empower the forest communities has been political significant, acknowledged Professor Wood, who has worked closely with the regional government as well as the forest communities.
"We are not a top-down project," he stressed. "We are a source of innovative thinking, research and testing, and we provide monitoring and evaluation to check if these innovations have worked. But the decision-making is in the hands of the local communities and the local government."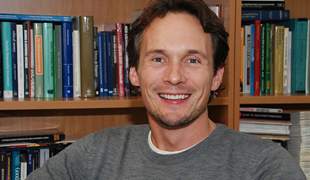 Entrepreneur and businessman Richard Reed, who was a co-founder of the innocent brand, spoke at the launch of the new Centre for Sustainable and Resilient Communities.
‌The projects are managed on the ground by Ethiopians, with Professor Wood visiting the region about four times a year.
He became involved with Ethiopia about 40 years ago, while researching for his PhD. The 1990s saw the launch of a wetlands conservation programme and the PFM projects began in 2003. Now a project to conserve wild coffee in some of these forests has received funding totalling more than 2.4 million euros. This will run until 2015.
"The long-term vision is that we are looking to scale up this work, so that we have an eco-region approach in the South West of Ethiopia, led by the University of Huddersfield, that will address issues of resource management and water management in an area which is a critical headwater of the Nile," said Professor Wood.
What would have happened without the introduction of participatory forest management in Green Ethiopia?
"Local communities would have been pushed off the forest by investors, supported by the state," said Professor Wood. "Forested areas would have been turned into estates for commercial agriculture. Local livelihoods would have been lost and what forest remained would have been degraded rather than enhanced. Less carbon would have been stored in it and there would have been a more irregular regime in the Nile, caused by the forest loss."