Midwifery graduate achieves the highest mark of all students
Fri, 15 Nov 2013 09:48:00 GMT
From the West End to the sharp end for the University's top midwifery graduate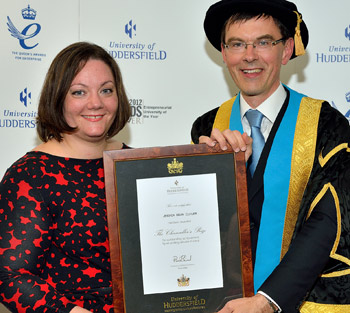 Midwifery graduate Jessica Cutler with the University's Pro Vice-Chancellor (Teaching and Learning), Professor Tim Thornton.
AFTER a successful career in the theatre, working on major West End shows, Jessica Dean Cutler decided that her future lay in the real-life drama of midwifery. She trained at the University of Huddersfield and was so successful in her studies that she achieved the best marks of any student to graduate this November.
Her super-high average of 90.47 per cent has made her the highest scoring student of the latest group to have earned a coveted 2013 Chancellor's Award, which she received at a special ceremony.
Jessica, aged 32, is delighted with her success. But now she has graduated with a BSc in Midwifery Studies she is fully absorbed in her new full-time role as a birth-suite midwife for the East Lancashire Hospitals NHS Trust, based in Burnley.
It seems a long way from her first career as a stage manager for leading theatre companies. She was closely involved in the development and the staging of big West End hits such as Chicago and The Producers. With the Chichester Festival Theatre she toured overseas with a marathon production of Nicholas Nickleby.
But Jessica sees her dramatic change of direction as completely logical.
"I think midwifery is theatre. Birth is a drama," she said.
"I have always wanted to care for people. As a stage manager I cared for actors but I wanted to work with women who I felt really required some encouragement. In the world of theatre you have people who have essentially been quite lucky in their lives, but my job now entails working with people who have come from all walks of life and I am watching them develop as women and mothers."
Real-life midwifery
Jessica was born in South Africa, to parents who encouraged the theatrical ambitions of both her and her brother Benjamin, now a UK-based stage actor. The family came to the UK when she was 18 and settled in Yorkshire, where they had relations. Even when Jessica embarked on her 10-year theatre career she kept alive her ambitions to move into midwifery and eventually opted for study at the University of Huddersfield, a major provider of training in the field.
Her course has equipped her both academically and practically for her new career. Her placements have given her experience of all dimensions of a midwife's work, whether based in hospitals, birth centres, the wider community or attending home births.
In order to qualify she had to be responsible for the delivery of 40 babies. But there was a learning curve. Her first experience of real-life midwifery, based in Dewsbury for the Mid-Yorkshire NHS Trust, was "terrifying" she admits.
"During my first shift on labour ward there was an emergency and I stood there thinking I am never going to learn how to deal with this! But I stayed on and I was well supported and I feel that I am ready for anything now."
Although she will work in all departments of midwifery, Jessica's special area of interest is public health, which she defines as creating structures to make birth fully safe for women and to educate them on their options. She was pleasantly surprised by the extent to which she enjoyed the academic side of her University of Huddersfield studies – praising the support she received – and she plans to study for a Master's degree.

Her main tutor at the University was senior lecturer and course leader Jayne Samples (pictured left).
"Jessica shone throughout her course," she commented. "Reading her written work has been a complete pleasure. She has great knowledge and understanding and she came up with ideas I had not thought of myself. It has been quite humbling really – but Jess herself has been humble about her abilities as well."