Meet the EM-VA Team
Fri, 08 Nov 2013 13:52:00 GMT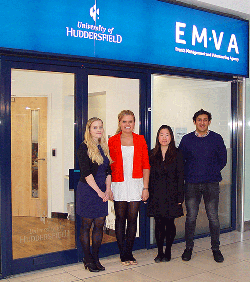 EM-VA (Events Management and Volunteering Agency) has been formed this year by a team of our placement students. Elizabeth Howe, Suet Yin Chew and Rehan Sarwar, all Events Management students, and Katharine Woodhead, a Business Management student, have joined forces to form this exciting new agency.
The team are closely supported on each event, by the University of Huddersfield's Event Management department staff. The staff give guidance and support whilst giving the team their independence to grow the company on their own.
What is EM-VA?
EM-VA is an events management and volunteering agency. Its services can benefit both staff and students here at the University.
Events Management
If you're planning an event, EM-VA can offer you a simple solution to all your event needs. From planning to employing professional staff on the day, they offer a wide range of services to make your event successful and unforgettable. Here's a summary of the tailor-made services EM-VA can offer you:
Event Consultation
Event Feasibility
Event Planning
Logistics Suppliers
Venue Finding
Event Design
Event Marketing
Event Operations
Risk Assessment
Volunteering Agency
Volunteering
If you're a student or staff member interested in volunteering EM-VA can provide you with the opportunity to volunteer for a range of interesting projects within the events industry, regardless of your course or field of study. If you have a specific skill or expertise that you want to gain more experience in, contact the team who will put you on their contact list for their next event. They welcome all skills, such as photography, graphic design, performers/entertainers and hospitality.
The story so far
Since they started this new venture in June 2013 the team have been very busy indeed working on a range of exciting and varied projects, including:
Graduation
An audience with Theo Paphitis
Business School Staff BBQ
Transport and Economics Conference
University Open Days
CSRC (Centre for Sustainable and Resilient Communities) Launch with Richard Reed from Innocent Foundation
The Leadership Factor
Upcoming events:
HS2 Conference (15th November)
Old School Sports Day
Packhorse Christmas events
EM-VA has also provided volunteers for a range of events, including:
The Great Yorkshire Show
Town Crier Championship
Hilly Half Marathon
Prince's Trust Fashion Dinner
"No event is alike, EM-VA offers a tailor made solution to your event needs," commented EM-VA.
Following the current placement year group a new set of students will take over the reins at EM-VA and will continue the good work set up by this first team.
How do you contact EM-VA?
Tel: 01484 544203
Email: info@em-va.co.uk
Twitter: @_EMVA
Facebook: /EventsAgency
Testimonials:
"I wanted to hold a party for staff to mark the end of a busy and successful academic year. We had plenty to celebrate, including the award of the Queen's Award for Enterprise. We got the date in people's diaries but didn't have much time to organise the event. With just a couple of weeks to go, in stepped EM-VA. They asked us all the right questions, helping us to decide exactly what we wanted to do and the budget we wanted to spend. Then we just left it to them. EM-VA got it all organised, looked after us really well on the day and cleared everything up. They were brilliant," said Professor Chris Cowton, Dean, University of Huddersfield Business School.
"Thanks for everything you did yesterday. Obviously given the unavoidable delays on the day, which we could not do anything about - some flexibility was needed, but everything looked to go smoothly and I felt it was a great success. The key thing - the lecture theatre was full and noisy!!" said Professor John Thompson, Emeritus Professor of Entrepreneurship, University of Huddersfield Business School.
"It turned out to be a great day and the students thoroughly enjoyed themselves – especially as they won the competition. Thank you for another great event," said Barnsley College.