Invitation: Join the Inspire Conference
Thu, 14 Nov 2013 14:00:00 GMT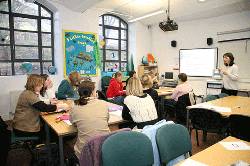 Applications are invited from members of staff in possession of FHEA who would like to participate in the pilot of a new 20 credit Masters Module. You will be awarded 40 credits APL towards a PgCert (Higher Education), on the basis of your FHEA. The PgCert (Higher Education) will be achieved on successful completion of the 20 credit module 'The Inspire Conference'.
The module focuses on the development of a piece of experimental teaching and learning, which you will write up as a conference paper and deliver at an in-house conference at the end of the course. You will need to attend four half day sessions and the one day conference and participate in tutorials and on-line activities in between the sessions.
The sessions will consist of an induction session, master classes led by individuals with a national profile in teaching and learning and group work on the development of your own experimental sessions and associated conference paper. You will be supported by subject mentors and teaching and learning mentors during the process and by on-line materials. The module includes a teaching observation.
We are looking to recruit about 20 to 30 delegates for the first conference. The induction session has been provisionally arranged for Tuesday 26 November from 9.00am until 1.00pm and the first half day session will be in January, when the course officially begins, followed by sessions in May and October, culminating in the 'Inspire Conference' in January 2015.
If you are interested, check this out with your line manager and then let Jacqui Mellor (j.mellor@hud.ac.uk) have your name. You will need to apply formally through the University web-site, using the MA Higher Education application form, which can be found via the course finder here but it makes sense to let us know that you want to do the programme.
In order to be accepted you should:
Be able to attend all the face to face sessions. All are on Tuesdays between 9.00am and 1.00pm and will be held on 26 November 2013, 21 January, 13 May and 14 October 2014. The actual conference date will be in January 2015. The exact date remains to be finalised.
Be a fellow of the HEA.
Teach and have the opportunity within your teaching to design an experimental teaching and learning session.
Have other teaching sessions to offer where your teaching could be observed.
Have the support of your line manager.
AND – get in before all the places are filled!