International Food and Culture Festival
Fri, 01 Nov 2013 12:17:00 GMT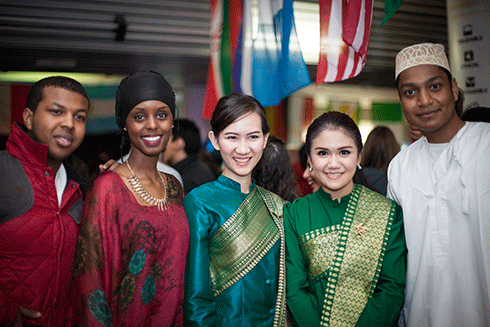 One of the highlights in the University's events calendar took place on 23 October on campus.
The much loved and highly influential 'International Food and Culture Festival' took place in the Central Services Building, this time with a slightly different twist.
Split between two floors with two different stages, over 2,000 people attended the event and enjoyed food, fun and friendships made among students and staff.
The event is hosted by the International Student Societies who put on a great display of cultural activities, performances, fashions and cuisines. Among the countries who participated this time were: Bulgaria, India, Kurdistan, China, America, Nigeria, The Baltics, Romania, Vietnam, Bangladesh, Malaysia, Hong Kong, Latin America, Cyprus, Germany, Czech-Republic, Slovakia, Taiwan, Greece, Iraq, Burma, Thailand, East Africa, France, Pakistan, Italy and Saudi Arabia.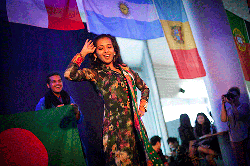 Alan Tobi from the University's International Marketing department said: "Once again our international students have delivered a fantastic event that seems to be growing each time. It was especially nice to see so many friendships and good relations forming through this uplifting event. I want to personally thank all the students who worked so hard on their food tables and performances on stage, you are a real credit to this University. I would also like to extend my thanks to the Campus Events team, Events Management team and all the wonderful volunteers who helped organise and make this event possible, too many to mention but you know who you are."
‌Plans for the next festival have already begun with a date being scheduled for February or March 2014. Details are available from campusevents@hud.ac.uk
Facebook users can see photos from the event here
Watch the Video on YouTube here
Or Vimeo here