Hudds honorary doc criticises bank's treatment of businesses
Tue, 26 Nov 2013 14:22:00 GMT
BIS's entrepreneur-in-residence Lawrence Tomlinson's damning report on lending practices of banks and their unfair treatment of SMEs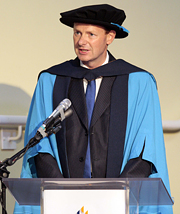 Lawrence Tomlinson giving his speech after receiving his honorary doctorate in 2011. He was recently appointed entrepreneur-in-residence for the Department for Business, Innovation and Skills.
WHEN Lawrence Tomlinson was appointed entrepreneur-in-residence at Vince Cable's Department for Business, Innovation and Skills, people at the University of Huddersfield who had encountered the Yorkshire businessman and philanthropist knew that this was no symbolic appointment made for bland PR purposes.
The University's Vice-Chancellor, Professor Bob Cryan commented that: "I know from first-hand experience that Lawrence is a real mover and shaker. His role at BIS is a very constructive appointment and I am confident that it will have positive results."
Now those "positive results" can be found in a report that has detonated a bombshell beneath the banking sector, and the state-owned RBS in particular. Mr Tomlinson's findings, he claims, show "heavy handed, profiteering and abhorrent behaviour of some of the banks towards businesses".
Brought up in Batley, Lawrence Tomlinson, who was awarded an Honorary Doctorate of the University of Huddersfield in 2011, is chairman and founder of the Yorkshire-based LNT Group, whose multi-faceted interests include care homes, software development, construction and the sports car firm Ginetta.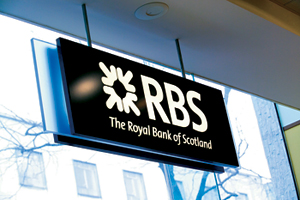 Mr Tomlinson – passionate about training and apprenticeships – has donated money to help disadvantaged young people study engineering at the University of Huddersfield and has personally escorted them round the Ginetta factory, hoping that some will return on work placements.
The newly-issued Tomlinson Report, the first fruits of his role at BIS, is sub-titled Banks' Lending Practices: Treatment of Businesses in Distress. The alleged finding, which has caused most controversy and grabbed most headlines, is that RBS – effectively nationalised after its near-collapse under CEO Fred Goodwin – had deliberately put some "good and viable" businesses into default so it could make more profit.
Mr Tomlinson's main criticism is aimed at RBS's turnaround division, named the Global Restructuring Group. The report states that:
Once in this part of the bank, [a] business is trapped with no ability to move or opportunity to trade out of the position – they are forced to stand by and watch an otherwise successful business be sunk by the decisions of the bank ... the businesses affected are often perfectly viable and, but for the action of the bank, would have been able to positively contribute to UK growth.
The report's conclusion is that "the country requires a plan to rebalance the relationship between business and bank, providing more protection for businesses and giving them the real option of moving banks, securing the finance their business truly deserves and requires".
The Tomlinson Report is just under 10,000 words in length and has taken about six months to compile. This is quite a contrast to the costly, drawn-out process of the judge-led reports – resulting in almost unassimilable documents of telephone directory proportions – that we are more familiar with.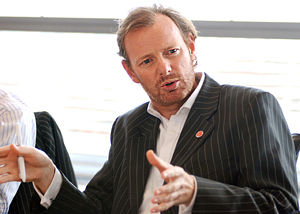 So Lawrence Tomlinson (pictured right) – as Professor Cryan commented – plainly is a "mover and shaker" who does not mess around when he takes on a job. Some of the findings have been contested, and there are those who have accused his report of lacking rigour and being based largely on anecdotal evidence.
But they has had a salutary effect and have been sent to the Financial Conduct Authority and the Prudential Regulation Authority. Business Secretary Vince Cable has said: "Some of these allegations are very serious and I am waiting for an urgent response as to what actions have been taken.
"I am however confident that the new management of RBS is aware of this history and is determined to turn RBS into a bank that will support the growth of small- and medium-sized businesses."
Issued shortly after the Tomlinson Report was a complementary exercise by Sir Andrew Large, a former Bank of England policymaker. He has examined RBS's record on lending to small and medium-sized enterprises and criticised a "culture of excessive risk aversion".
The banking sector is therefore still under intense scrutiny in the long aftermath of the crisis of 2008-2009. Lawrence Tomlinson, whose entrepreneurial instincts and energies are a close fit with the University of Huddersfield's business-facing agenda, has made a typically telling contribution to a debate that will not conclude for some time to come.