ESRC Festival of Social Science
Fri, 08 Nov 2013 11:33:00 GMT
'Empowering Youth in the 21st Century'
Opening the day - Professor John Playle (pictured left), Dean of the School of Human and Health Sciences, welcomes the students.
The University of Huddersfield hosted a day-long event aimed at young people in secondary schools and FE colleges across West Yorkshire as part of the Economic and Social Research Council's week-long Festival of Social Science.
The event, Empowering Youth in the 21st Century, sought to empower young people in becoming more effective citizens by establishing dynamic participatory relationships with University of Huddersfield staff and students. It encouraged the development of social, economic, cultural and political citizenship through the hosting of project-based workshops designed to enhance citizenship education programmes in local schools and FE colleges.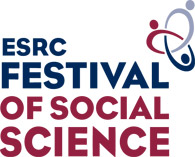 Research indicates that young people are often overlooked by policy-makers, politicians, employers and other influential figures within locales. This event was designed to fill the need to enhance the youth voice in schools and communities through the development of effective modes of youth citizenship is widely-recognised to counter prevailing attitudes towards young people, both in terms of recognition and empowerment.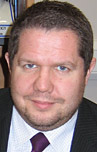 The event built directly on a previous ESRC-funded event hosted at the University of Huddersfield in 2012, when social science students, staff, and local stakeholders held the successful, Young People in Society: Promoting Youth Citizenship. Young people were encouraged to develop projects to enhance youth citizenship through engagement with social science and business researchers and students from the University of Huddersfield, and local stakeholders including Kirklees Council and Volunteering Kirklees.
Keynote addresses will be provided by Dr Pete Woodcock (pictured above right), the University's Head of Division of Criminology, Politics and Sociology, who revealed how The Simpsons can tell us about democracy, and students from the Business School, who discussed local enterprise projects. The day was organsied by Professor Jim McAuley and Dr Andrew Mycock.

Throughout the event young people were assisted in the development of projects inspired by contemporary issues directly affecting them within citizenship and other social science lessons in participating schools and colleges.