Criminology researcher edits special edition of Safer Communities
Thu, 07 Nov 2013 15:11:00 GMT
Designing out crime is the theme as Crime researcher Leanne Monchuk joins forces with Sydney Institute of Criminology's Garner Clancey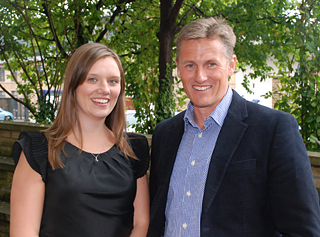 Researcher Leanne Monchuk is pictured with Garner Clancey, Deputy Director of the Sydney Institute of Criminology, at the signing of the Memorandum of Understanding between the University's Applied Criminology Centre and the SIC
EXPERTS who used special design techniques to cut crime at the London Olympics and in the earthquake-shattered New Zealand city of Christchurch are among contributors to a journal co-edited by a University of Huddersfield researcher. The aim of the publication is to enable people working at the sharp end of crime prevention to share their knowledge and experiences.
The journal is also the product of a partnership between criminology researchers at the University of Huddersfield and counterparts at the University of Sydney. The result is a publication with a distinctive Anglo-Australasian slant.
Designing out Crime – Voices from the Fields is the title of a special edition of the journal Safer Communities, (pictured) from publishing company Emerald. Leanne Monchuk, who is a researcher based in the University of Huddersfield's Applied Criminology Centre (ACC), edited the publication in tandem with Garner Clancey, Deputy Director of the Sydney Institute of Criminology.
But in spite of the fact that the journal was produced by two academics, the aim was to produce a publication that was an "acadamese-free-zone", says Leanne Monchuk. All of the contributors are people working in the field, using techniques such as Crime Prevention through Environmental Design (CPTED), which try to ensure that new buildings and developments are designed in ways that minimise the likelihood and possibility of crime.
There are six articles, ranging over many aspects of CPTED. Contributors include Nick Goldby, who is Senior Security Consultant for construction giant Arup. Writing with Ian Heward, who is Crime Prevention Design Advisor for the Metropolitan Police, he describes how designing-out crime was part of the process for the development of the Queen Elizabeth Olympic Park in London.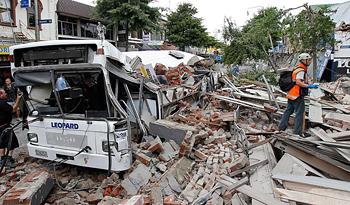 Sue Ramsey, who is Crime Prevention Team Leader for Christchurch City Council in New Zealand, writes about the extensive use of CPTED in the post-earthquake rebuilding of the city. (Pictured: The devastation left after the earthquake in Christchurch, New Zealand in 2010).
In their preface to the journal, the editors write that it is "a collection of stories told by practitioners".
"Less familiar with writing for academic journals, each author was encouraged to write about their work, giving voice to their experiences and insights, unmediated by academic analysis or commentary," says the ACC researcher. "Consequently, this special edition not only makes an important contribution to our understanding of how designing out crime work happens. It is also highly readable, something for the whole, family, not just the dusty office!"
In the UK, the journal is especially topical because of fears that relaxations in planning laws could end the requirement to use CPTED, which has been shown to cut crime by more than half. Dr Rachel Armitage, who is Associate Director of the Applied Criminology Centre at the University of Huddersfield, is campaigning on this issue.
Sydney Institute of Criminology
The Huddersfield ACC and the Sydney Institute of Criminology have signed a Memorandum of Understanding and Leanne Monchuk and Garner Clancey have paid reciprocal fact-finding visits to Australia and the UK. There has also been collaboration via Skype and video conferencing, with live lectures being delivered to students in Sydney and Huddersfield.
Pictured: An architectural drawing of the Queen Elizabeth Olympic Park in London.
‌Both of the co-editors of the special edition of Safer Communities are delighted with the publication and its practical emphasis.
"But it will also be of interest to academics and a useful tool for students," said Leanne Monchuk. "It fills the gap between research and practice. We can talk about criminological theory and designing out crime, but here we have some excellent case studies of how it has been implemented."
Garner Clancey added: "I am delighted to have worked on this special edition of Safer Communities with Leanne. It was also very pleasing to be able to provide a platform for diverse practitioners from England, New Zealand and Australia to tell their stories and to describe their work. It is through these experiences that we will gain a richer understanding of attempts to design out crime."
Designing out Crime – Voices from the Fields is published as Volume 12, Issue 4 of Safer Communities whose mission is to promote evidence-based police and practice across all aspects of community safety. Safer Communities is one of 31 titles in the Health and Social Care collection published by Emerald Group Publishing.