Call for more money to research alternatives to animal testing
Wed, 13 Nov 2013 14:53:00 GMT
The Medicinal Labelling Bill calls for animal testing to labelled on products...
...but a Huddersfield scientist feels that the time is right to look for chemical alternatives to animal testing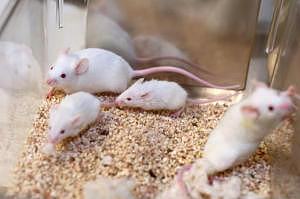 ‌Photo Credit: iStockphoto/Brandon Laufenberg.
‌A NEW law, introduced by scientist Lord Robert Winston, could make it compulsory for manufacturers of medicines to state that their products were tested on animals. University of Huddersfield scientist Dr Laura Waters has lent her backing to the plan – but for completely opposite reasons to those that motivated the proposed legislation.
Lord Winston introduced the Medicinal Labelling Bill – a Bill to require the declaration relating to animal research to be placed on medicinal products' labels – which had its second reading in the House of Lords on 25 October, 2013, because he wants to win public support for experiments which he regards as "an ethical necessity", making it easier for scientists to obtain a licence to carry out drug testing on animals.
"In my view, a packet that is clearly labelled so that the public understand that animal research is necessary for the development of the drug that they are taking or the vaccine that they are using is really important as a part of public debate, and as a recognition that this research is not only necessary but that it is done properly and humanely and is entirely ethical," he told peers.
However, Dr Laura Waters – a chemist and pharmaceutical scientist – is firmly opposed to animal testing and believes that new scientific developments make it unnecessary. She thinks that if Lord Winston's plans for compulsory labelling come into force, then they could win support for her side of the argument.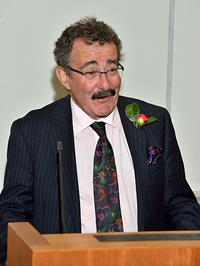 Lord Winston pictured speaking at the tenth annual Harold Wilson Lecture at the University of Huddersfield.
‌"Lord Winston and I have very different views on animal testing and whether it is worth doing or not. However, in strange way, I agree with him, but for reasons that are about as opposite as you can get!" she said.
Dr Waters believes that if people are made fully aware that it is legally mandatory for every drug and medicine on the market to be tested on animals then that will result in a massively increased demand to develop alternatives.
"The only reason I am not supportive of the Medicinal Labelling Bill is because there is a high chance that some members of the public, when they realise all drugs are tested on animals, may then be reluctant to take their medicine," added Dr Waters.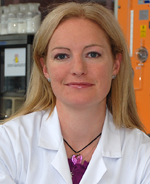 She argues that there is little or no information gained from animal testing that cannot be learned using other, more humane techniques. For example, computer-based systems can predict the effect of drugs and it is now possible to develop mimics of different parts of the body. Dr Waters herself has worked on computerised mimics of the human skin.
"There are lots of times when there is a replacement for animal testing, or an alternative that can be considered. Large pharmaceutical companies already use the computer modelling systems as a starting point to narrow down their choice of possible drugs. It should be up to the scientists involved whether animal testing is needed or not.
"Progress is being made, but we need much more money to be put into the development of alternatives to animal testing," said Dr Waters, hoping that if the Medicinal Labelling Bill becomes law it will help to stimulate this research, despite the fact that Lord Winston's goal is to create a more supportive attitude to the use of animals in drug tests.
The Bill has now been debated and passed its Second Reading in the House of Lords. Now it will be closely scrutinised by a committee before passing for further debate.