Baroness Worthington receives Honorary Doctorate
Wed, 13 Nov 2013 15:56:00 GMT
Bryony Worthington, House of Lords Shadow Minister for Energy and Climate Change, welcomed to the University of Huddersfield Awards Ceremonies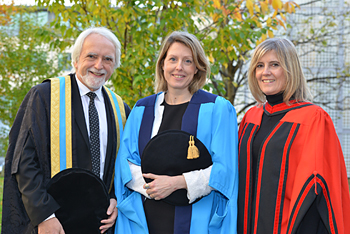 The Baroness [centre] is pictured at her award ceremony with Professor Bob Cywinski and Professor Susan Kilcoyne.
‌AN influential politician and campaigner who believes that thorium is the fuel of the future has been awarded an honorary doctorate by the University of Huddersfield, which is a major hub for research into thorium's potential as a plentiful and safe alternative to uranium-fuelled reactors.
Baroness Worthington is a Labour peer, appointed by party leader Ed Miliband as shadow spokesperson on energy and climate change. A leading environmentalist, who formed international low-carbon campaign group Sandbag, she was an opponent of nuclear power until she learned about the possibilities of thorium, which creates much less dangerous waste and is much more abundant than uranium.
Thorium-fuelled power stations can also be turned off with the flick of a switch, so that they would be much safer.
Baroness Worthington chairs an All-Party Parliamentary Group that investigates the use of thorium in order to combine low carbon emission with energy security.
The University of Huddersfield is home to the International Institute for Accelerator Applications (IIAA), where the staff includes leading experts on the accelerator technology that would be used in sub-critical thorium reactors. They include Professor Bob Cywinski, a key member of the Thorium Energy Association – ThorEA – and a prominent public advocate for the fuel.
Professor Cywinski nominated Baroness Worthington for her Honorary Doctorate and before it was conferred she paid a fact-finding visit to the IIAA, which has state-of-the-art equipment, including the Medium Energy Ion Scattering facility (MEIS) that has recently relocated to the University.
As she toured the laboratories of the Institute, the Baroness was escorted by Professor Cywinski and by Professor Susan Kilcoyne, a University of Huddersfield Research Professor and associate member of the Institute, who specialises in biomaterials. Professor Cywinski recently attended the international conference on thorium energy, THEC13, held at CERN, the European Organisation for Nuclear Research, with the University's Professor Roger Barlow.