Australia beckons for Hudds wound care expert
Fri, 22 Nov 2013 13:03:00 GMT
Florence Nightingale Foundation scholarship paves the way for research links Down Under for Dr Ousey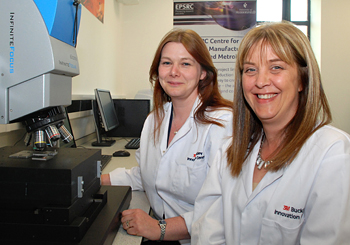 Dr Karen Ousey (right) is pictured with Dr Leigh Fleming at the launch of the Skin Interface Science Group.
A UNIVERSITY of Huddersfield researcher will travel thousands of miles to work with fellow experts on developing new ways to improve the quality of life for sufferers of serious wounds. And it is all thanks to Florence Nightingale.
Dr Karen Ousey, who is Reader in Advancing Clinical Practice at the University of Huddersfield and a leading researcher in wound care, has formed close links with colleagues in Australia who are working in the same field. She has paid two recent visits to the country, including attendance at the International Council of Nurses Conference in Melbourne.
Dr Ousey recently established the Skin Interface Science Group at the University of Huddersfield, which pools the expertise of engineers, chemists, biologists, pharmaceutical scientists and specialists in wound treatment.
Now she is to go Down Under again, early in 2014, having been awarded a travel scholarship, worth almost £5,000, from The Florence Nightingale Foundation – a long-established organisation which memorialises the famous pioneer of nursing – plus The James Tudor Foundation.
In recent years, Australian experts have carried out a large amount of globally-respected wound research, explained Dr Ousey. The researchers she will meet and work with share her interest in quality-of-life issues for patients.

On her latest visit to Australia, Dr Ousey will use her travel scholarship to criss-cross the vast country, liaising with experts such as Professor Helen Edwards (pictured right) at Queensland University of Technology, Professor Keryln Carville (below left) at Curtin University in Perth, Western Australia, and Professor Karen-Leigh Edward (below right) at the Australian Catholic University in Melbourne.

There will be talks with staff and patients at wound care facilities and Dr Ousey is also planning to visit Alice Springs, to discover how the quality of life for patients is managed in remote Outback settings.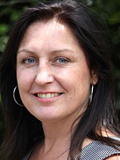 The UK visitor and her Australian colleagues will collaborate on a new tool, or method to assess the quality of life for patients who are suffering wounds. It will be in the form of a detailed questionnaire that will furnish information about how patients cope. This will help healthcare workers learn what extra help and education is required, so that risks of depression and anxiety in patients are reduced and their resilience is improved.
When the new tool is developed, it will apply to all wounds, said Dr Ousey, and could be used globally. After she has returned from her research trip, she will continue to liaise with the Australian experts via Skype and an Australian postgraduate student will also be recruited to help with development of the questionnaire.