Fight for thorium – Professors attend Thorium Energy Conference
Mon, 23 Dec 2013 10:48:00 GMT
Huddersfield physicists at ThEC13 held at the home of the Large Hadron Collider in CERN

NEWS that Eggborough power station in Yorkshire will probably stop generating in 2015 – and that the National Grid could pay factories to switch off electricity at peak times to ensure a continued supply to homes – has lent added urgency to the issue of energy capacity and security.
The need for new, safe and environmentally sound sources energy is widely acknowledged. Scientists at the University of Huddersfield are major advocates of the use of thorium as a safe and plentiful source of carbon-neutral nuclear power.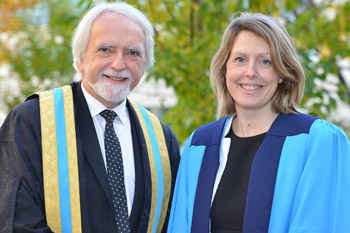 It is a field of science and technology that is gaining increasing global support, and dozens of the world's leading scientists in the field gathered at CERN in Geneva. Among them were University of Huddersfield professors Roger Barlow and Bob Cywinski - Professor Cwynski is pictured with at the University of Huddersfield with Baroness Worthington, who is Shadow Minister for Energy and Climate Change in the House of Lords and who set up and chaired the All Party Parliamentary Group (APPG) on Thorium.
The event – held at the home of the European Organisation for Nuclear Research and the site of the Large Hadron Collider – was the 2013 Thorium Energy Conference, known as ThEC13.
Professor Cywinski, who hosted a discussion session on thorium-reactor physics and appears in the video opposite, was a member of the international scientific advisory committee that helped organise the conference. He worked alongside Hans Blix, former head of the International Atomic Energy Agency and head of the United Nations Monitoring, Verification and Inspection Commission, plus Nobel Prize winner Carlo Rubbia, a former Director General of CERN.
Both of the Huddersfield professors who attended ThEC13 are members of the International Institute for Accelerator Applications, based at the University. At the Geneva conference, Professor Barlow gave a talk on the accelerator technology required for sub-critical thorium-fuelled nuclear power stations.
"Some of what I said was well-known but needed re-emphasising to a different audience, but some of it was based on new developments from our research at Huddersfield," said Professor Barlow, who is pictured below left in the University of Huddersfield's International Institute for Accelerator Applications labs with the University's Vice-Chancellor, Professor Bob Cryan.
There were 68 presentations and discussion sessions at the five-day conference, which was co-organised by the International Thorium Energy Committee, based in Geneva, and the International Thorium Energy Organization, of Stockholm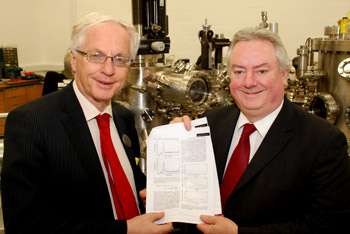 "Some very promising partnerships have been formed as a result of the conference and the next few years should see some big steps forward," said Professor Barlow. Professor Barlow's talk is available at http://cds.cern.ch/record/1626275.
As evidence of mounting global interest in the potential of thorium, there was widespread media coverage of the conference and Professor Cywinski – who is active in promoting the public understanding of science - was interviewed by Australia's ABC network.
Interest in the use of thorium as a source of nuclear power is growing in the UK and is being promoted by the Weinberg Foundation, whose patron is Baroness Worthington, a leading environmental activist and Labour's shadow spokesperson on energy and climate change. She recently visited the University of Huddersfield, where she has been awarded an honorary doctorate. She has commented on the important role played by the University of Huddersfield in putting thorium energy back on the map
"We need nuclear energy, otherwise there is a good chance the lights will go out," says Professor Cywinski.
Nuclear power also helps to combat climate change, emitting a tiny fraction of the carbon produced by fossil fuels. Misgivings over safety and the waste produced by conventional uranium-fuelled nuclear reactors can be addressed by the use of thorium, adds Professor Cywinski, and this is a key factor for environmentalists such as Baroness Worthington.
Professor Cywinski accepts that the next reactors to be built in the UK – as a "stopgap measure" – will be conventional. But the nuclear power stations built after that - dubbed Gen IV –could be fuelled by thorium and the use of accelerator technology would confer many advantages. Not only would an accelerator-driven, thorium-fuelled reactor be sub-critical – therefore easily switched off – it would also produce neutrons that "fission" the waste.
"So instead of creating waste they are actually destroying it!"