Researcher measures cartilage replacements in knees
Fri, 16 Aug 2013 12:17:00 BST
"FibroFix devices must have a surface texture that is precisely fit for purpose"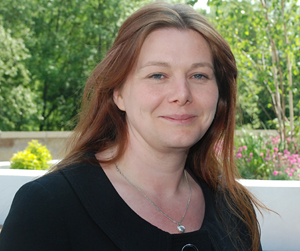 KNEE replacements are running at more than 70,000 a year in England and Wales and the figure is rapidly rising. Now a University of Huddersfield scientist is playing a key role in the development of a new, high performance substance that can repair failing cartilages in knees and other joints before the onset of the severe osteoarthritis than can lead to the need for full replacement.
Although scientific ingenuity has led to the breakthrough, nature provided the inspiration. The tough, flexible substance known as FibroFix Composite – which can be used to make small devices that repair damaged cartilage – is based on the protein fibre emitted by silkworms.
The substance was developed by Oxford-based scientists who formed a company named ORTHOX to develop the concept. It has received financial backing from the Technology Strategy Board (TSB) and the University of Huddersfield's world-class expertise in the measurement of complex surfaces has been enlisted.
‌The metrologist Dr Leigh Fleming (pictured), of the University's EPSRC Centre for Innovative Manufacturing in Advanced Metrology, is in charge of the Huddersfield contribution to the two-year project.
Her task in the TSB-backed project – its full description is Development of single protein fibre matrix composites for high performance cartilage repair devices – is to measure the devices in order to characterise their surfaces.
In order to act as an effective, wear-resistant bearing in the knee joint, the FibroFix devices must have a surface texture that is precisely fit for purpose. Dr Fleming will employ atomic force microscopy and optical interferometry to measure the composite material at nanometre level, or one billionth of a metre.
"The purpose of the measurement is to make sure the devices are smooth enough so that when people are walking they have got free movement in their knees," said Dr Fleming. She will furnish her partners in the project – based at Oxford and Cardiff universities – with data, including surface pictures, that will act as a tool to enable the manufacture of the devices to be optimised and for their quality to be rigorously checked.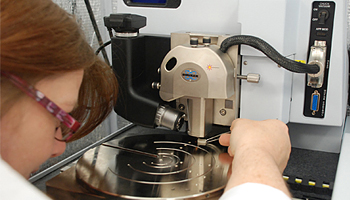 The project enables Dr Fleming to return to her preferred research area, which she terms "human related engineering". She has industrial experience in the field and her PhD research dealt with the failure of replacement hip joints.
"It is an aspect of engineering that sometimes gets lost," she says.
"People think it's all about machines, but engineers play a big part in the medical field too and you can see real improvements in people's quality of life as a result."