£26,000 invested in young entrepreneurs' business
Thu, 01 Jun 2017 14:51:00 BST
Ocean Spark Studios, a video games design business set up with the help of the University's Enterprise Team, secures substantial funding from several investors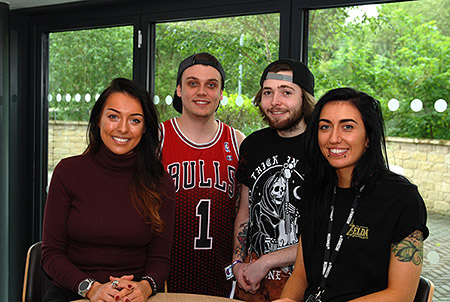 ►Pictured (l-r) Helen Andrzejowska, Daniel Jones, Zachray Cundall and Ellie Brown
SUBSTANTIAL funds of almost £26,000 have been awarded to a small games studio created by four young entrepreneurs from the University of Huddersfield and they say they're not going to stop there.
Ocean Spark Studios Ltd was set up in October 2016 by four games design students Helen Andrzejowska, Ellie Brown, Zachray Cundall and Daniel Jones. During this time they have already earned the confidence of several investors, one being Creative England a not-for-profit organisation dedicated to supporting emerging talent in the creative industries.
Creative England's Head of Game Development Rob Crossley met the team at the game showcasing event EGX Rezzed where, through a programme called 'Meet the Indies', independent game studios have the opportunity to talk to big publishers and investors. He was so impressed by their in-house game Tetra - Elemental Awakening, he awarded the studio £23,000 to aid its development.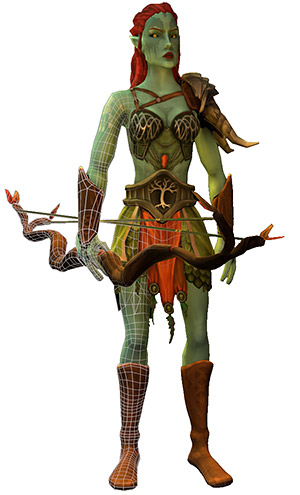 Tetra – Elemental Awakening is an adventure Role-Playing Game where the player takes control of four Guardians who possess elemental powers (a female Guardian can be seen pictured left). The aim is to help the local villagers while travelling from one island to another by completing quests and winning battles with a multitude of fantastical creatures.
Sheffield-born Helen, who is Ocean Spark Studios' Creative Director and 3D Artist, said the funding from Creative England now means the group has the financial freedom to concentrate on developing the game full-time for the next six-to-eight months without having to worry about part-time jobs.
The team's success continued when they represented the University and won University Alliance's Innovating Future Business competition. Entrepreneurs representing eleven Alliance universities pitched to a panel for the chance to win cash prizes from a pool of £5,000 with Ocean Spark Studios winning the investors over by securing the most funds totalling £1,150.
"We were particularly nervous about the Innovating Future Business competition" said Dan who lives in Leeds and is Ocean Spark's 3D Artist and Branding Manager. "We have never officially pitched to anyone outside of the University and the other pitches were so good, we couldn't believe it when they called our name," he said.
The group set up Ocean Spark Studios during their Enterprise Placement Year, an alternative placement year run by the University's Enterprise Team in The Duke of York Young Entrepreneur Centre. With the help of the Enterprise Team the Studio has secured additional investment of £1,500 from Santander Universities and £300 from the Kirklees Alternative Market.
While the team admits there is a lot of work to be done before the game can be fully released onto PC, they are looking towards securing further investment to make what was once a dream a reality. They also hope to offer students from the University work-experience so they can gain valuable real-world experience of working on the development of a game for an independent studio.