World-renowned linguistic expert receives honorary award
Mon, 28 Jul 2014 10:11:00 BST
Professor David Crystal receives an Honorary Doctorate of the University
LINGUIST Professor David Crystal is widely regarded as the foremost writer and lecturer on the English language, with a worldwide reputation and over 100 books to his name.
Alongside Huddersfield professors Lesley Jeffries and Dan McIntyre, as co-editors, David is the Linguistic Advisor for Babel – The Language Magazine, which under the trio's guidance is written and compiled by world-class linguists.
Babel is aimed at a wide range of language-lovers, bringing cutting edge research in linguistics to our subscribers in an accessible and fun glossy magazine and puts considerable store by its presence and continued success.
In honour of his contribution to the world of language and linguistics, David received the honorary award of Honorary Doctorate of the University from the University of Huddersfield.
‌Professor David Crystal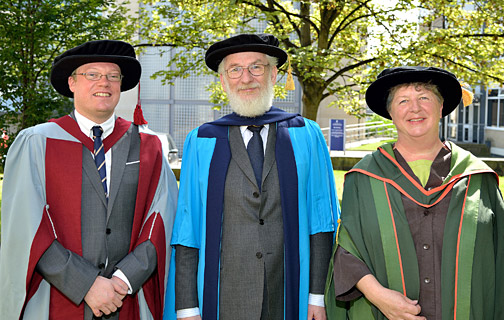 Pictured with Professor David Crystal (centre) are Babel co-editors Professor Dan McIntyre (left) and Professor Lesley Jeffries.
‌David Crystal is honorary professor of linguistics at the University of Bangor, and works from his home in Holyhead, North Wales, as a writer, editor, lecturer and broadcaster in language and linguistics.
Born in Lisburn, Northern Ireland, he spent his early childhood in Holyhead, attended secondary school in Liverpool and read English at University College London (UCL). After a research year at UCL's Survey of English Usage, he lectured at Bangor and then Reading University, where he became professor of linguistic science.
He left the full-time university world in 1984 to work as an independent scholar. His writing takes in most areas of language study and his best-known authored books are The Cambridge Encyclopedia of Language and The Cambridge Encyclopedia of the English Language. More specialised works are represented by A Dictionary of Linguistics and Phonetics, Clinical linguistics, Language Death, Language and the Internet, The Stories of English, Think on my Words: Exploring Shakespeare's Language and Begat: the King James Bible and the English Language.
In the field of applied linguistics, his major projects in recent years include the development of products that enable online advertising to be more appropriate and sensitive, and – initially in collaboration with Shakespeare's Globe – a programme to reconstruct earlier periods of English pronunciation to enable works to be performed in contemporary accents.
His editorial work includes acting as general editor of the Cambridge and Penguin families of general encyclopedias and the online edition of the entire oeuvre of the missionary poet John Bradburne. An autobiographical memoir, Just a Phrase I'm Going Through, appeared in 2009. David is married, with four children.
Back to news index - July