World project managing linked open data gets underway
Wed, 18 Dec 2013 15:25:00 GMT
‌ €400k SemData project welcomes first overseas researchers to Huddersfield
‌UNIVERSITY of Huddersfield experts in one of the most important new fields of data management will form close links with colleagues at some of the world's top research institutions, thanks to significant European Union funding.
Grigoris Antoniou is Professor of Semantic and Knowledge Technologies at the University of Huddersfield and a leading authority on the movement towards linked and open data, a burgeoning technology employed by industry giants, such as Google.
Professor Antoniou has been a catalyst in creating the SemData project, which has now been awarded €405,800 euros under the EU's Marie Curie International Research Staff Exchange Scheme. The value to the University of Huddersfield will be in the order of £100,000.
Universities in Spain, Germany Greece and the UK are participants in the scheme, and will be joined by institutions in USA, China, Australia and Chile, including the USA's Stanford University and the Commonwealth Scientific and Industrial Research Organisation (CSIRO), Australia's national science agency.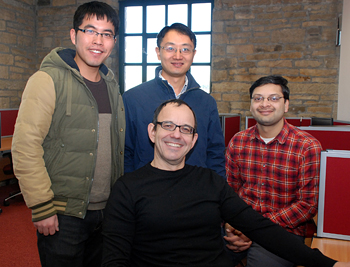 Professor Grigoris Antoniou (seated) is pictured with the first group of international SemData researchers (l-r) Zhangquan Zhou and Guilin Qi from China's Southeast University in Nanjing, who will spend two months at Huddersfield, and Raghava Mutharaju from Wright State University in Dayton, Ohio, USA, who will be at the University for a month.
The Marie Curie funding means that University of Huddersfield researchers in the field of open data will spend periods based at overseas universities and, in the other direction, academics and postgraduate researchers will come to Huddersfield. A professor and a PhD student from China are due to be the first visitors in December 2013. In total, Huddersfield will benefit to the tune of 50 "person months", covering both ingoing and outgoing academics.
"This is an excellent way to establish long lasting collaborations with institutions around the world and to raise the profile of the University of Huddersfield," said Professor Antoniou, globally known as the author of a standard textbook on the Semantic Web.

‌SemData was launched at a meeting held in Sydney, attended by Professor Antoniou.
"The project is concerned with issues of managing linked open data, focusing on how to process it efficiently, how to ensure interoperability, how to integrate dynamic or streaming data sources, and how to assess its quality," he explained.
"Project partners will collaborate on these technical issues, while also seeking to identify and explore opportunities of jointly exploiting these technologies around the globe."
Open data has become a major technology, taken up by industry and governments, added Professor Antoniou.
"Clearly open data doesn't obey national borders," he said. "So a truly global scale initiative like SemData is highly appropriate."